I have to apologize for not sharing these cookies with you sooner. They are amazing, and I was keeping them all to myself.
Well, not totally to myself. I let my family eat some.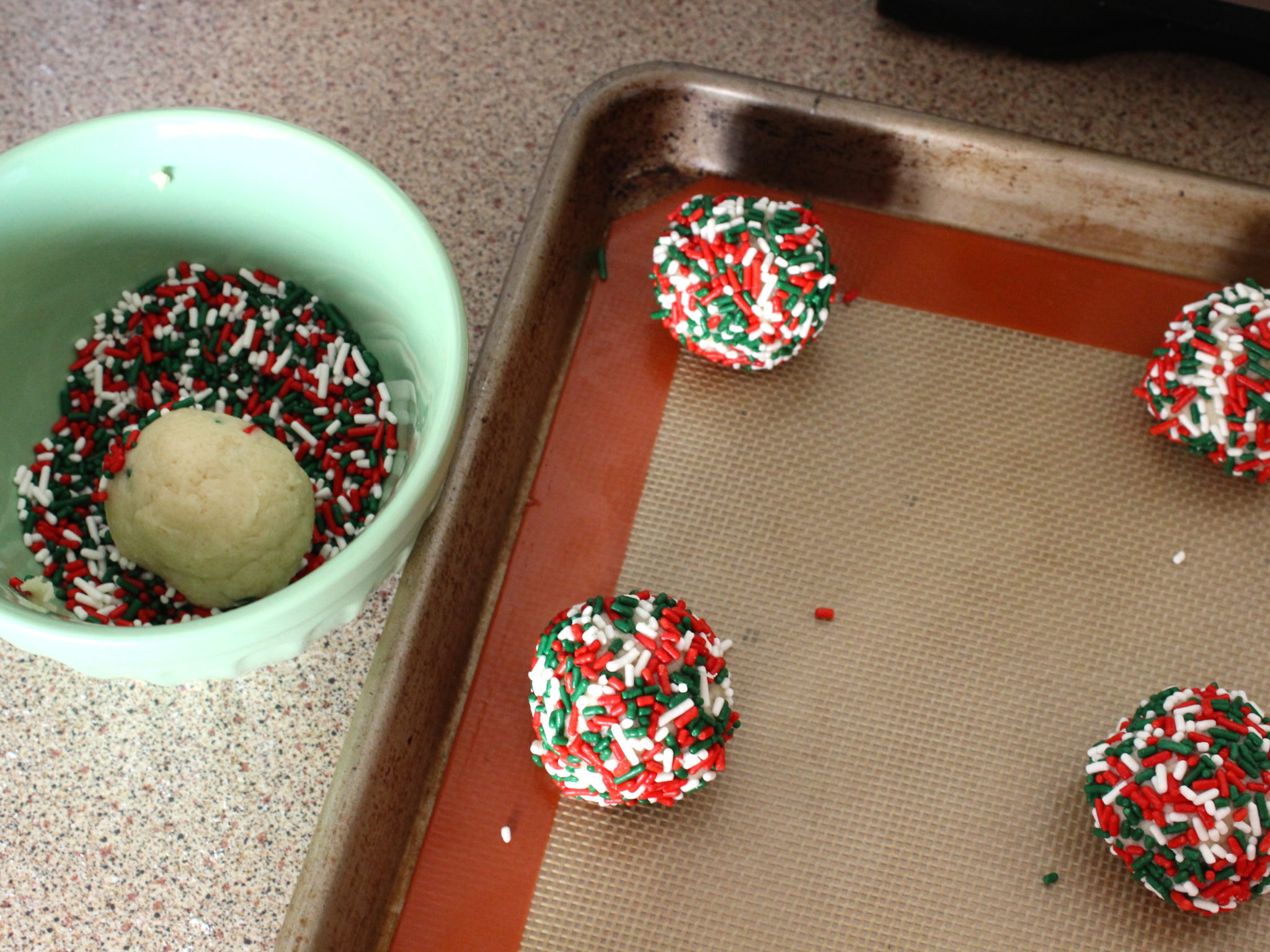 These cookies are a much-more-delicious version of those rainbow sprinkle-covered cookies they have at bakeries–the kind that are so beautiful and colorful that I just have to get one… but never live up to the expectation.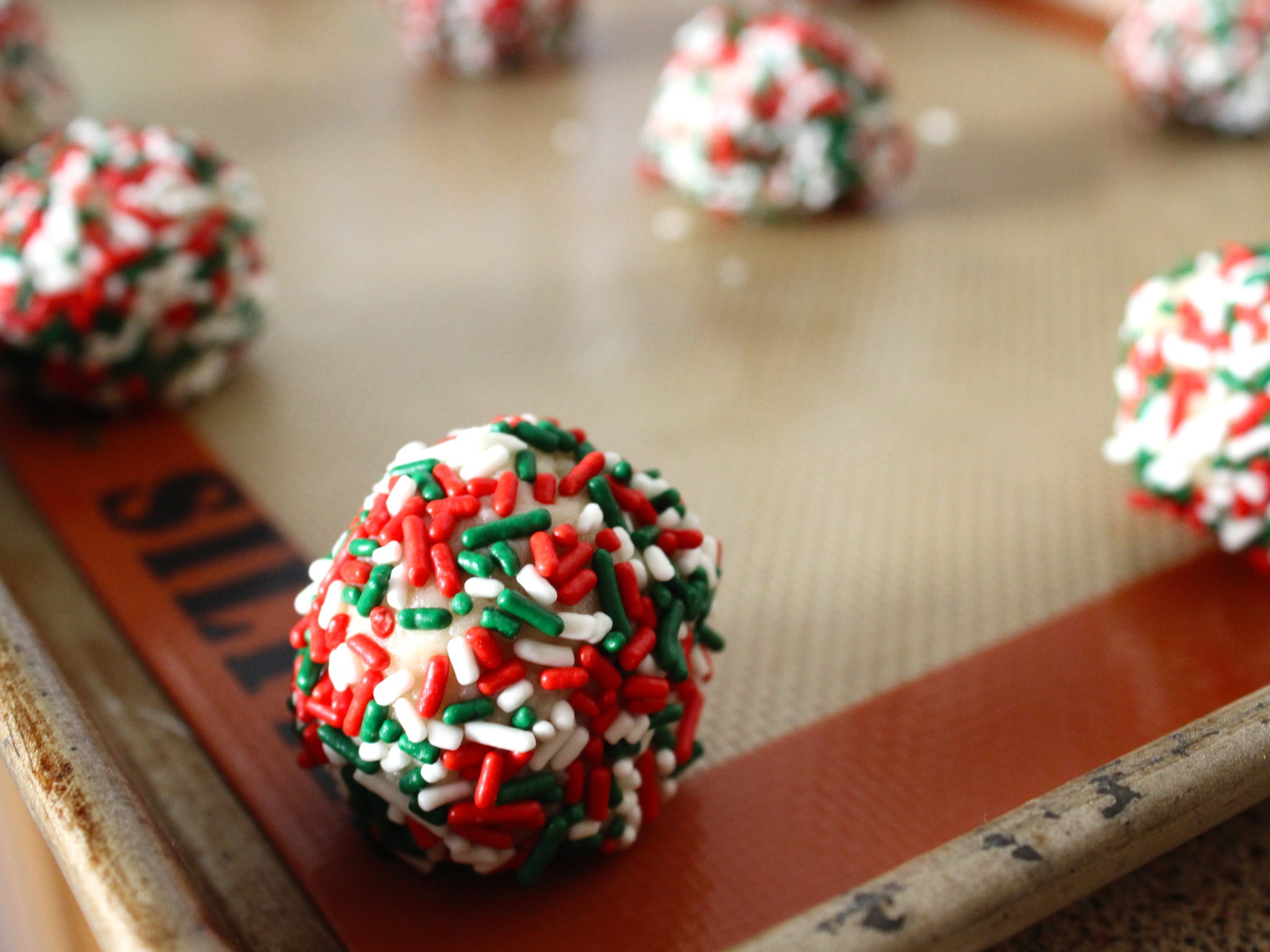 These are buttery and soft, with a good hit of vanilla and some texture from the sprinkles. Basically perfect.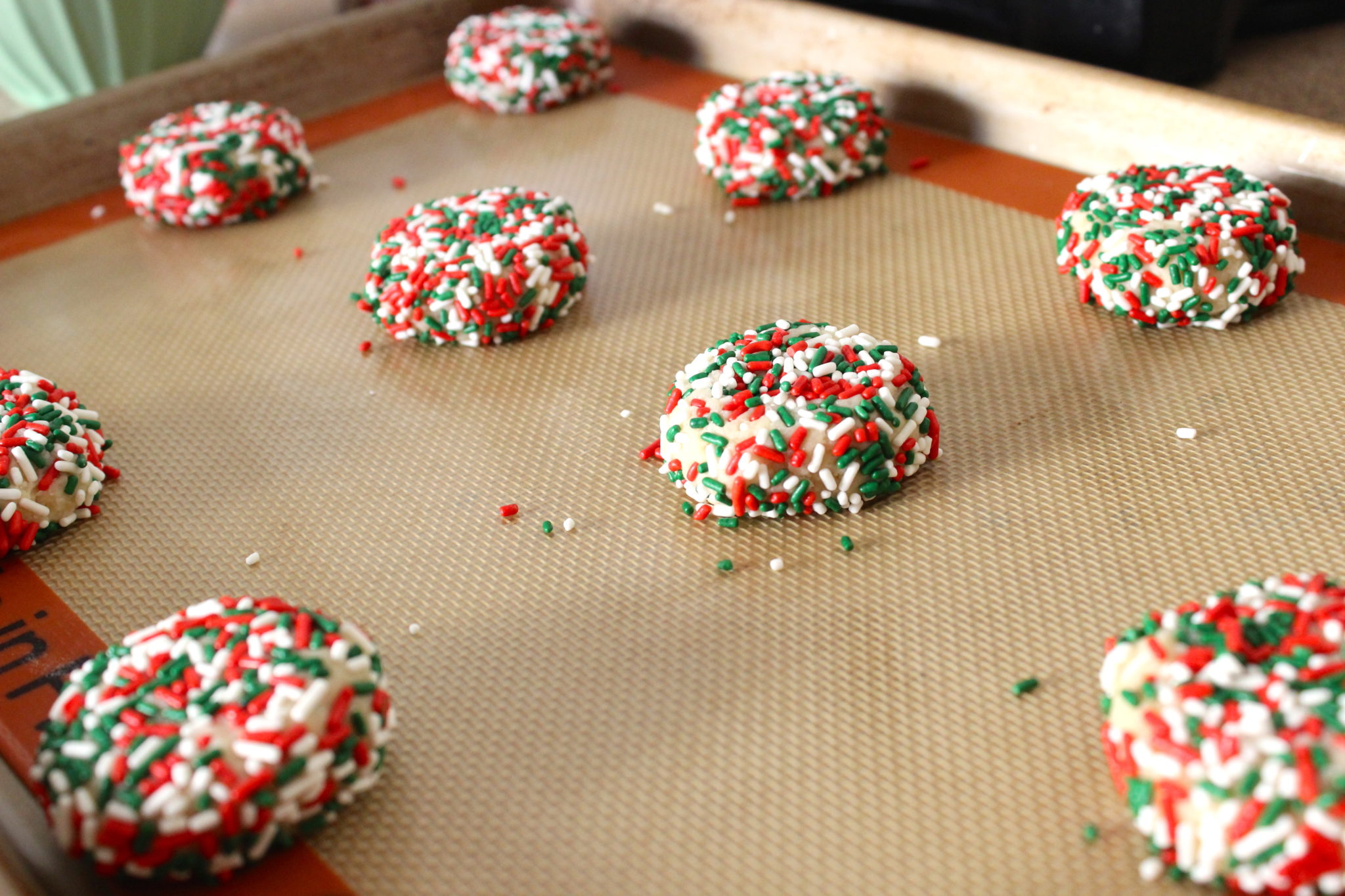 The recipe is from Smitten Kitchen, which I think is the best source for recipes on the Internet. Epicurious has failed me many times, Food Network is hit-or-miss, many other blogs can be iffy, but Deb at Smitten Kitchen never does me wrong.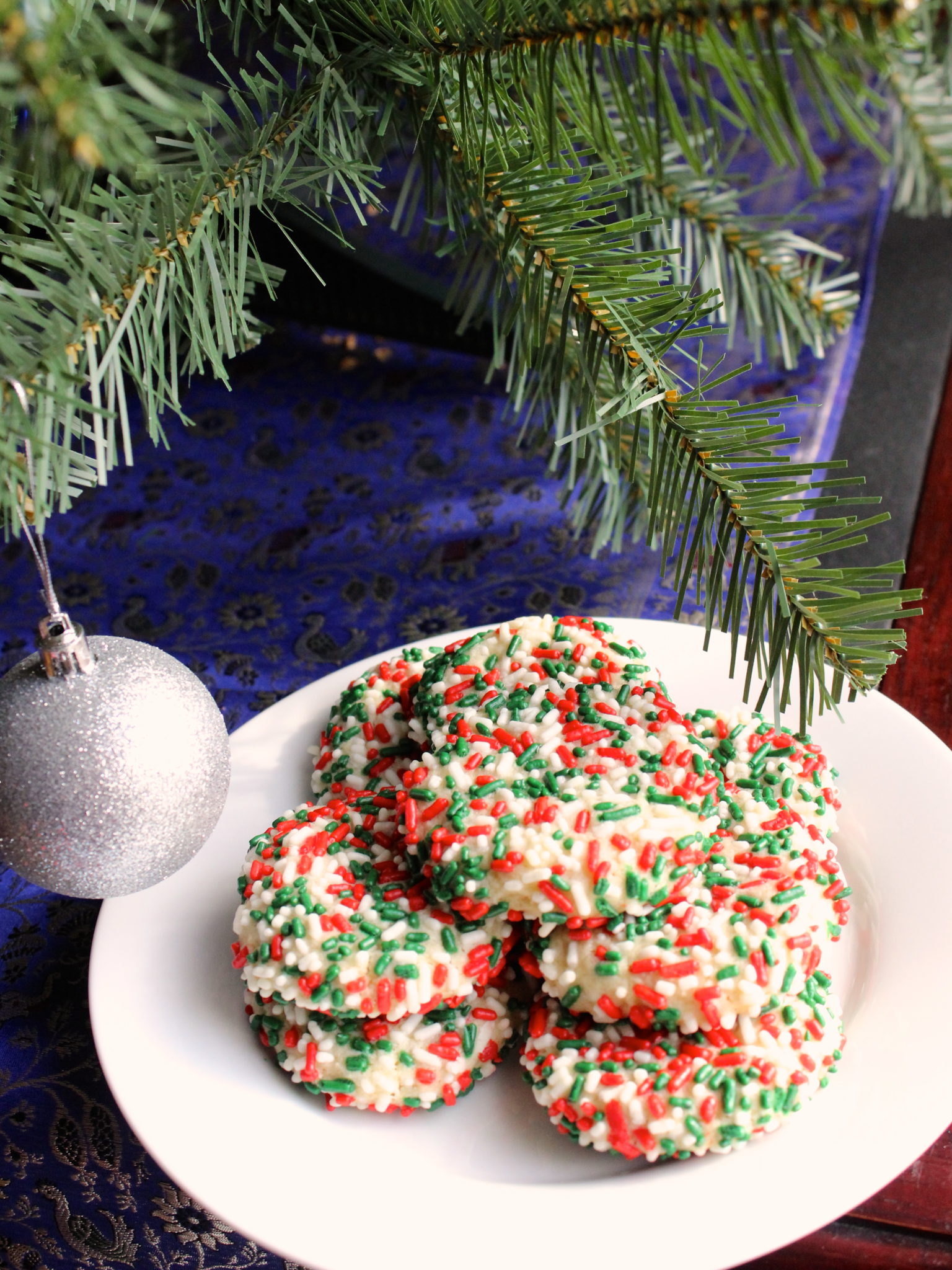 Obviously I made these for Christmas, but they are perfect for any celebration. The recipe is not difficult, but they will take a little longer to make than something like chocolate chip cookies, because you have to roll the dough in sprinkles and smoosh them down with a glass. I promise they're worth it.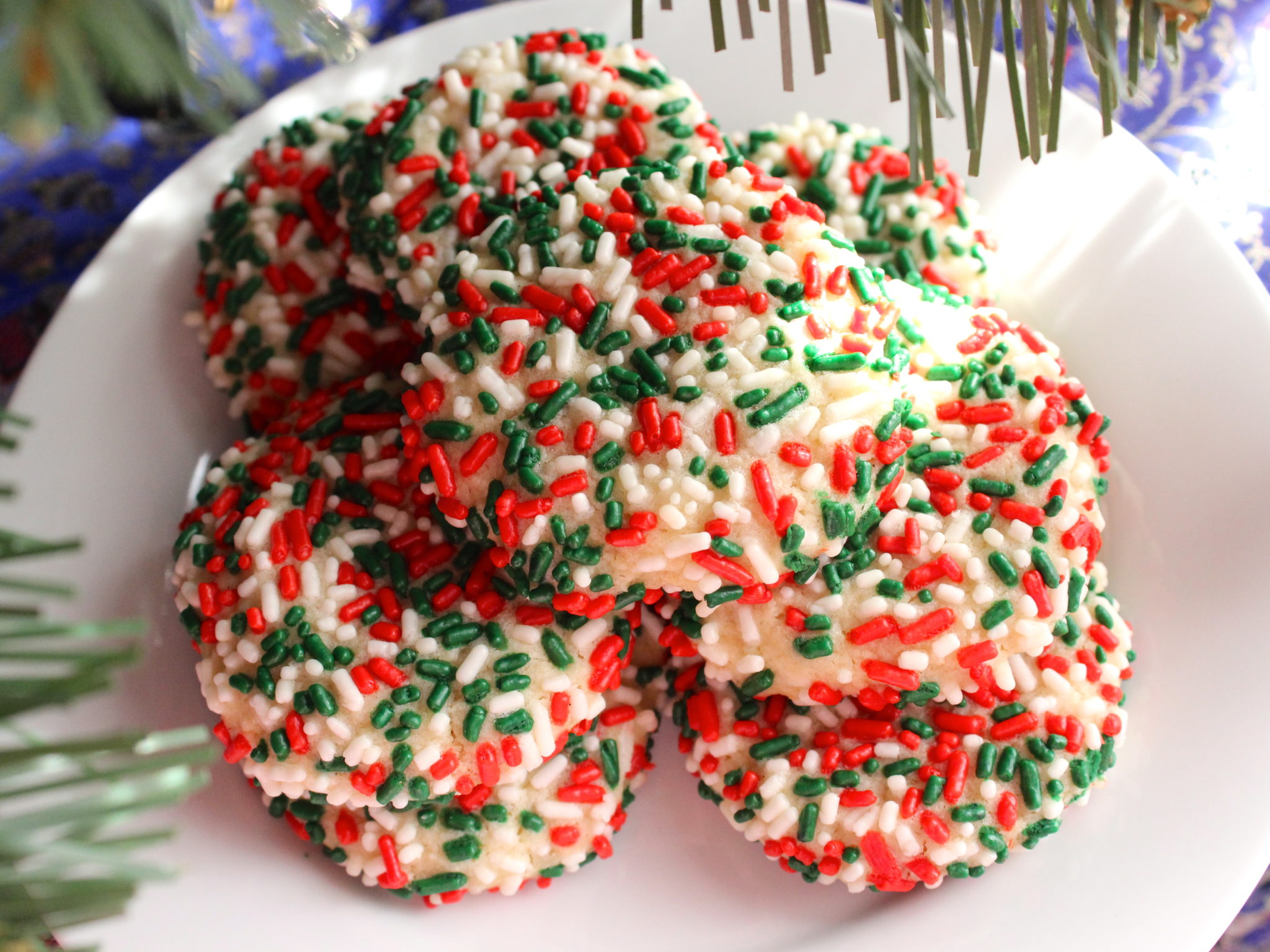 Celebration sprinkle cookies (Makes about 4 dozen cookies, recipe from Smitten Kitchen, who adapted it from King Arthur Flour)
3 cups all-purpose flour
1 teaspoon baking powder
1/4 teaspoon baking soda
3/4 teaspoon salt
1 cup (2 sticks/8 ounces) unsalted butter, softened by sitting on the counter for about an hour
1/4 cup (2 ounces) cream cheese, softened by sitting on the counter for about an hour
1  1/4 cups granulated sugar
1 large egg
2 teaspoons real vanilla extract (or 1/2 a vanilla bean)
1 cup rainbow or other colored sprinkles (make sure you use the jimmy kind, not the tiny round kind)
Heat oven to 375 degrees. Line two baking sheets with parchment paper or silicone baking mats.
*Note: If you'd prefer to make this with a food processor, head over to Smitten Kitchen for those instructions.
Put the flour, baking powder, baking soda, and salt in a mixing bowl and whisk. In the bowl of a stand mixer fixed with a paddle attachment (or a large mixing bowl, if using a hand-held electric mixer), beat the cream cheese, butter and sugar together until light and fluffy. Add the egg and vanilla extract and beat again to combine.
Add the flour mixture to the butter mixture and beat on low speed just until combined. If the dough is too soft to roll into balls at this point, put it in the fridge for 15 or 20 minutes.
Put the sprinkles in a small bowl. Use a spoon or cookie scoop to create a ball of dough, roll it in your hands to even it out, then drop it into the sprinkle bowl. Use a spoon or your fingers to roll the cookie ball around in the sprinkles, until it's totally covered.Take the cookie ball out of the sprinkles (I use a spoon) and place on a baking sheet, making sure the balls are at least two inches from each other. Continue making sprinkle-covered balls with the dough until you've filled a baking sheet, then use the bottom of a drinking glass to flatten the cookies slightly — you're shooting for about 1/2 inch tall. (Depending on the size of your oven, you may want to fill two baking sheets before you put them in the oven)
Bake the cookies for 9 or 10 minutes; they will not look totally done, but the bottom should be a little golden. Let them sit on the baking sheet for a few minutes before you remove to cool completely.
SaveSaveSaveSave
SaveSave
SaveSave
SaveSave