Pumpkin spice lattes have arrived at Starbucks, apple picking pictures are popping up all over Instagram, and temperatures here in Bahrain have dipped into the double digits (it was 95 today), which can only mean one thing: It's fall! Let's break out the canned pumpkin, cinnamon, and nutmeg and make cupcakes.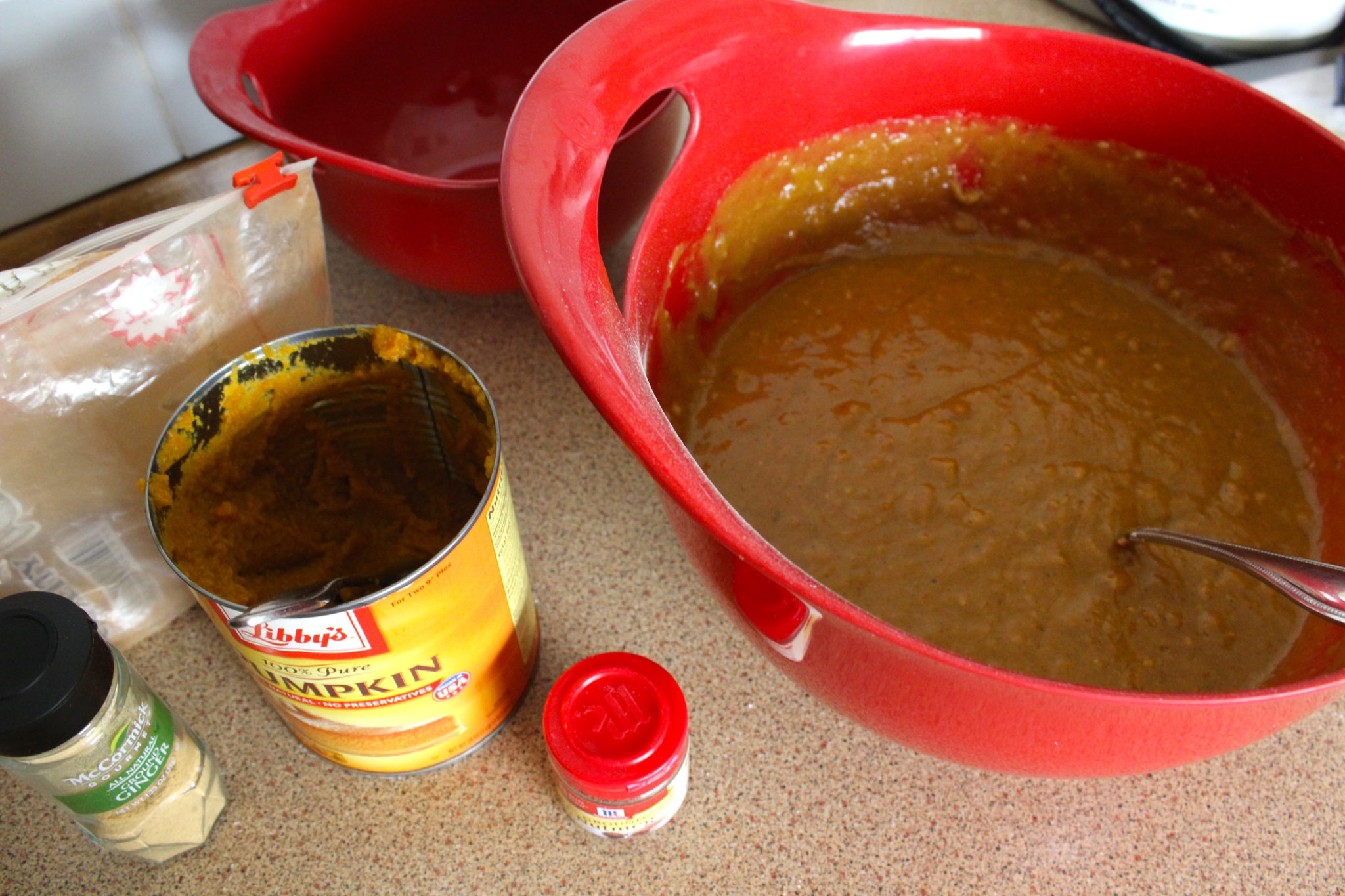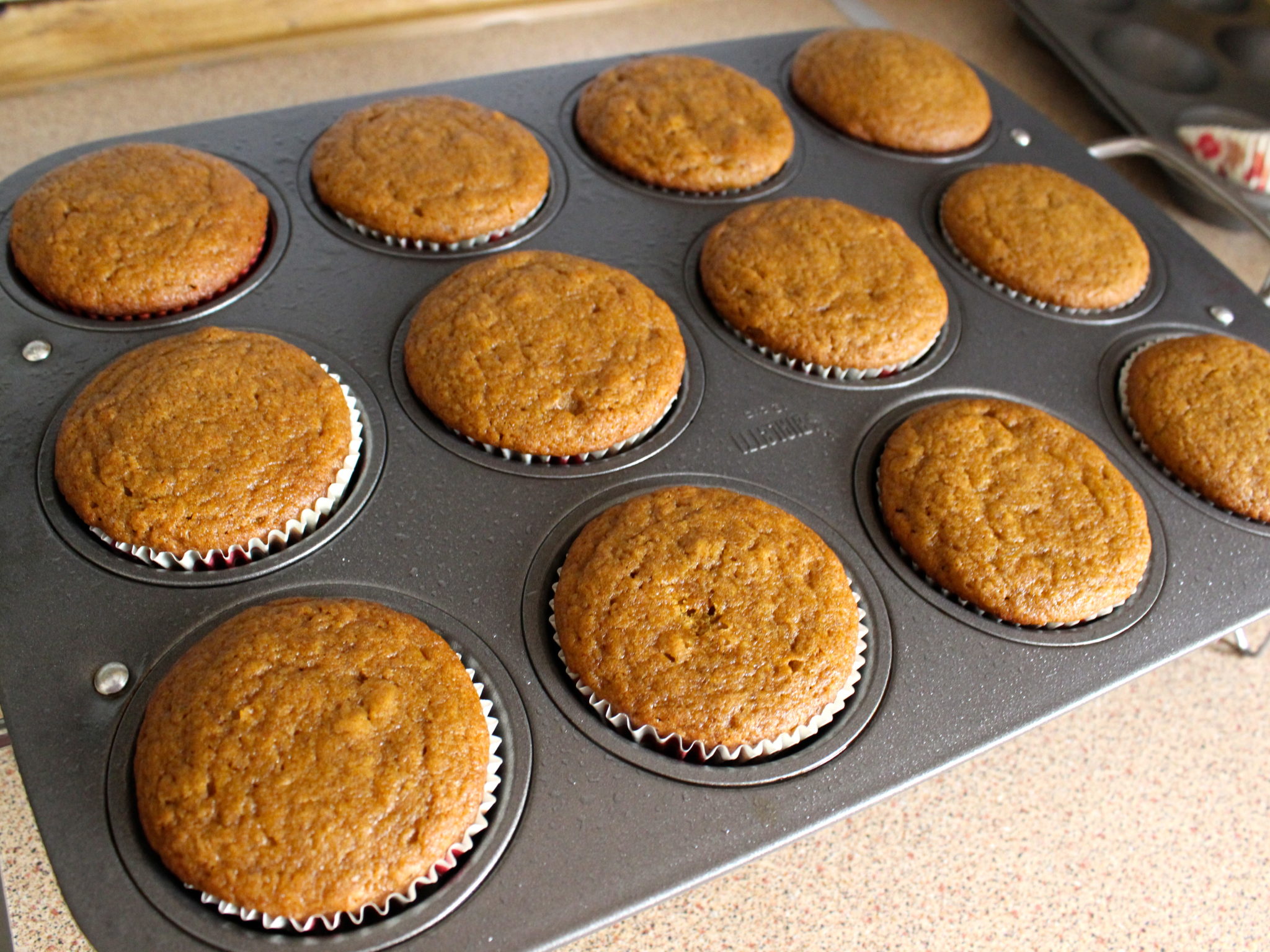 You don't even need a mixer for the batter, which is pretty awesome. Just a whisk and a spoon are enough!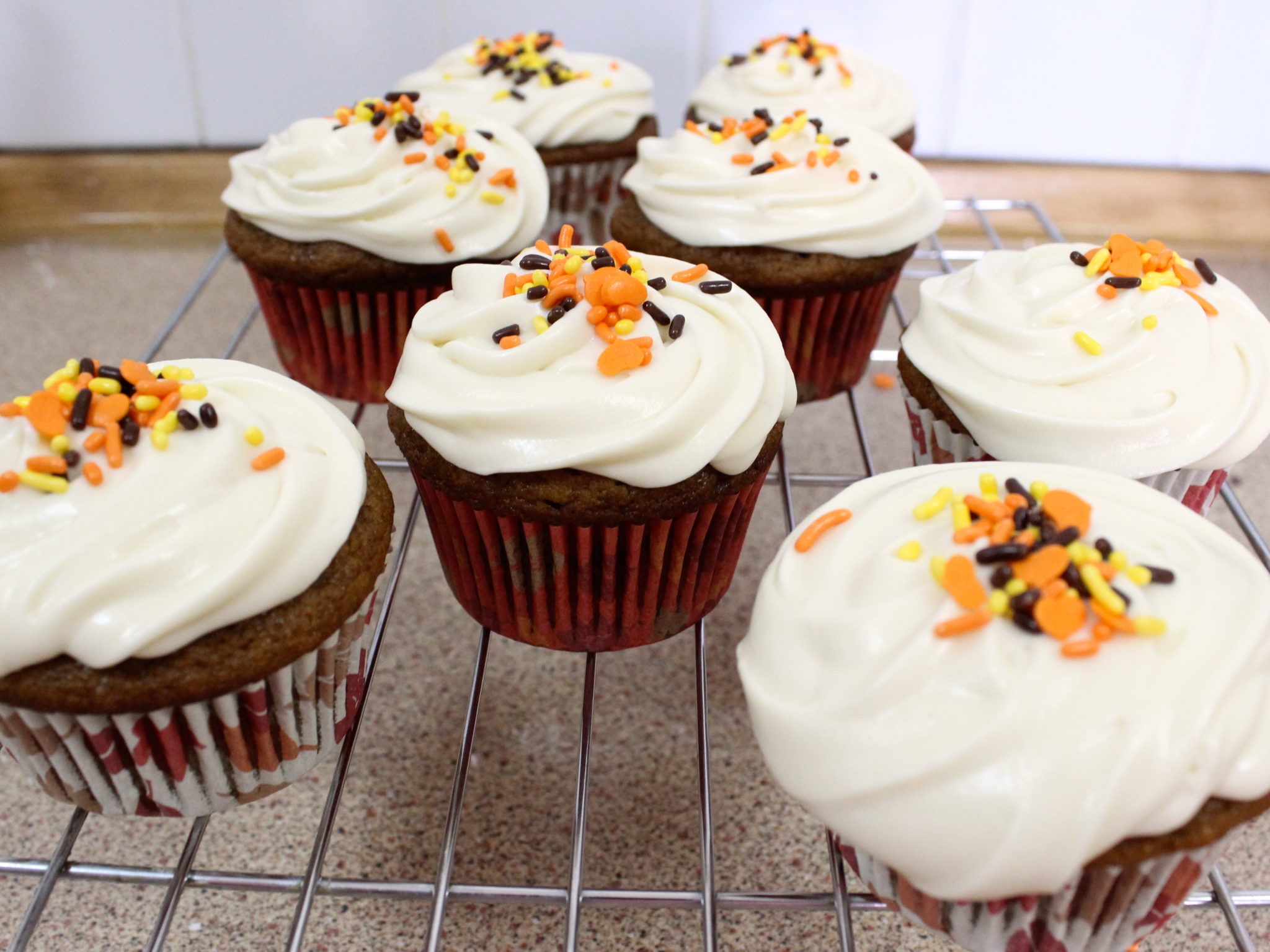 These cupcakes are delicious on their own, but topping them with maple cream cheese frosting sends them over the top. Just be aware that the maple frosting is a little runny, so if you're concerned about that, regular cream cheese frosting would also be awesome!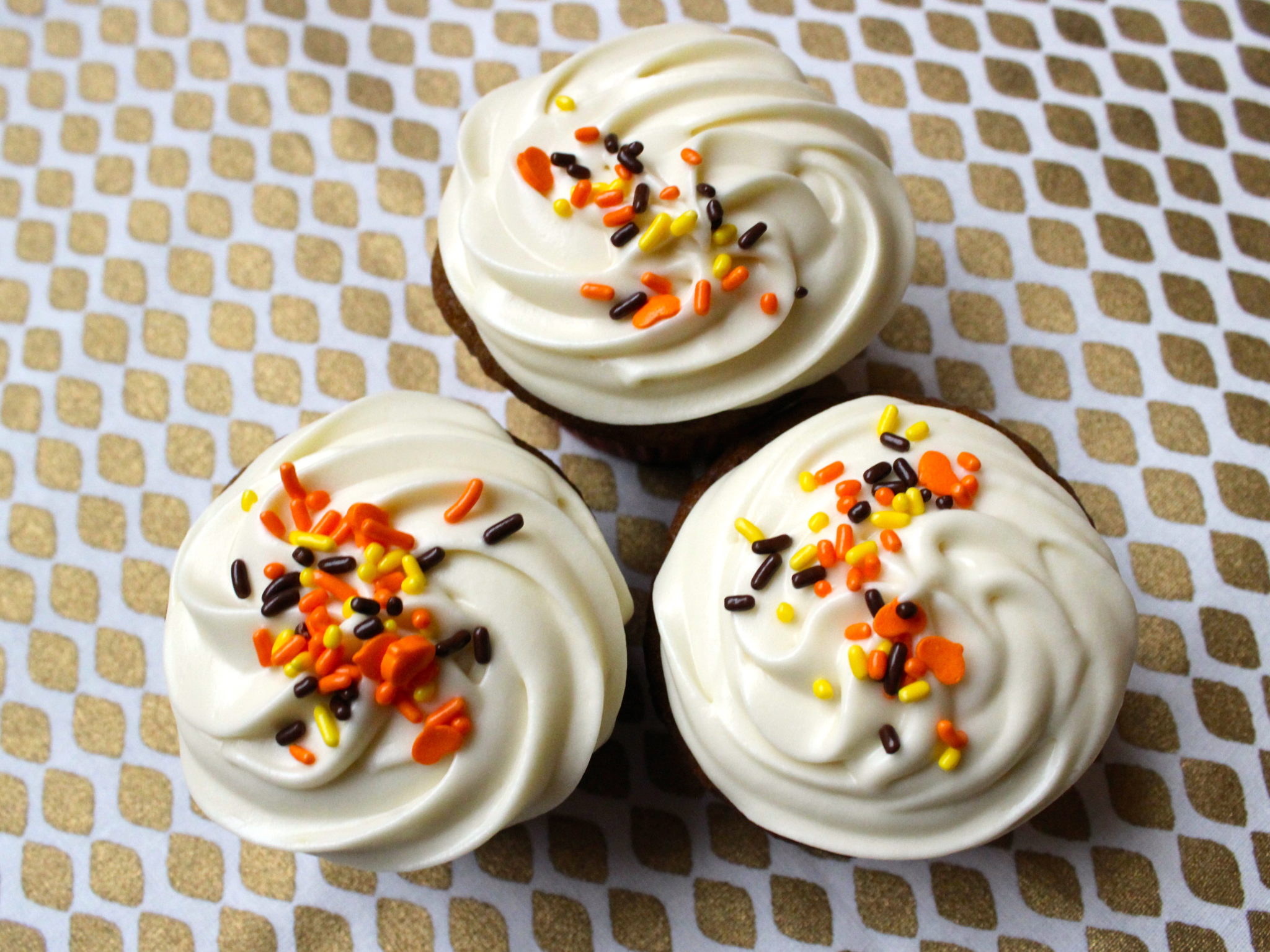 Ina (who is the genius behind this recipe) suggests topping these with bits of crushed Heath bar, but I was making them for someone with a nut allergy, so that was out. I also am not totally sure I could even find Heath bars here. Fall-themed sprinkles are super cute, though, and let the pumpkin and spices shine through.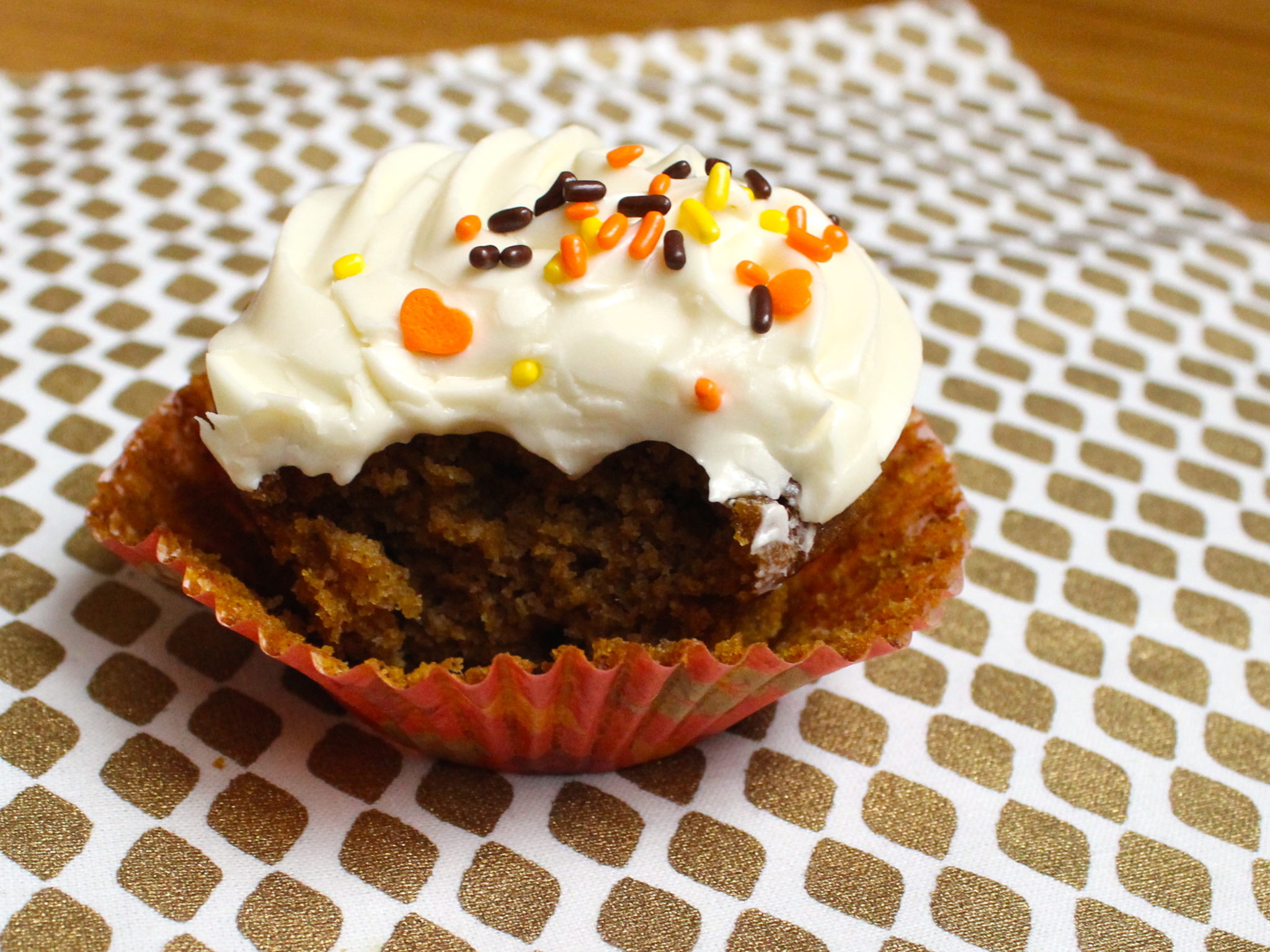 Pumpkin cupcakes with maple cream cheese frosting (Makes about two dozen, adapted slightly from Ina Garten)
1 cup vegetable oil (plus some extra for the muffin pans)
2 cups all-purpose flour
2 teaspoons baking powder
1 teaspoon baking soda
2 teaspoons ground cinnamon
1 teaspoon ground ginger
1 teaspoon ground nutmeg
1 teaspoon salt
5 large eggs, at or near room temperature
2 cups canned pumpkin puree (NOT pie filling)
1 cup granulated sugar
1 cup packed brown sugar
Preheat oven to 350F and put paper liners in two dozen muffin cups (this is two pans for me). Brush some oil on the pans, around the edges of each muffin cup.
Sift the flour, baking powder, baking soda, salt, and spices into a medium bowl. Put the eggs, pumpkin, sugars, and vegetable oil in a bigger bowl, and whisk to combine, then add the flour mixture to the wet ingredients and stir.
Spoon or scoop the pumpkin batter into the muffin cups, filling each about 3/4 of the way. Bake until the top of the cupcakes bounce back when pressed lightly with your finger, about 20 to 25 minutes. Let cool completely before frosting.
Maple frosting
12 ounces of cream cheese (let it sit at room temperature for at least 30 minutes so it's soft)
6 tablespoons unsalted butter, at or near room temperature
4 tablespoons real maple syrup (not pancake syrup!)
1 teaspoon vanilla extract
4 cups powdered sugar
Place the cream cheese, butter, maple syrup, and vanilla in the bowl of a stand mixer (or a large mixing bowl, if using a hand-held electric mixer), and use the paddle attachment to beat the mixture until it's smooth and creamy. Add the powdered sugar about a cup at a time, beating on low to combine after each addition. Once you've added all of the sugar, turn the mixer up to medium-high and beat for a few minutes. Taste it and add more sugar or maple syrup if necessary (for taste or texture).
Use the frosting to top the cooled cupcakes. If frosting is super runny, put the cupcakes in the fridge for 20-30 minutes to set.