After I graduated from college and moved to South Carolina, my dinners generally came from a can, a box, the freezer, or a restaurant. I baked cookies and cakes and muffins occasionally, but I really didn't know how to cook "real" (non-sugary) food, particularly meals that could go from stove (or microwave) to my tiny table in about 30 minutes and were suited for just one person.
So my slow cooker was kind of life-altering.
I don't remember exactly when or where or why I bought it, but I do remember searching online for recipes to try in this magical machine. One of the first things I found was this chili.
Granted, many of the ingredients still come from a can, a jar or the freezer. But it only takes about five minutes to put together, and I don't think the results taste canned. Plus, if you have beans you've cooked yourself, fresh salsa and homemade chili seasoning, that would work beautifully, too.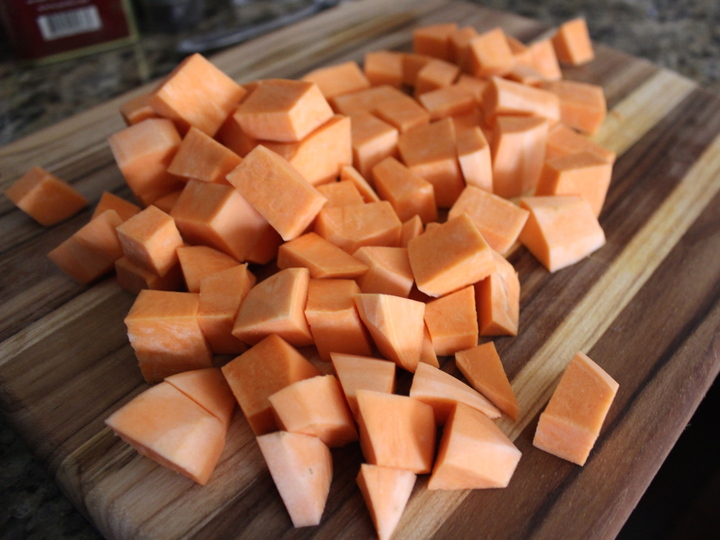 If you've used your slow cooker before, you know how easy it is. If you haven't, you really should try it. It seriously cooks your meals for you while you're at work. You can get one pretty cheap at Target or Wal-Mart or wherever, and I promise it won't burn your house down if you leave it cooking all day (although I always make sure that there aren't any papers or anything nearby, just in case!).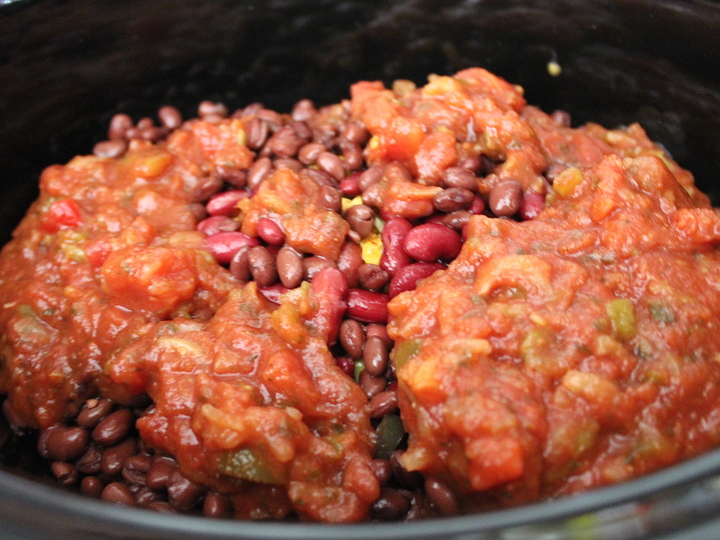 Anyway, I can no longer find the place I originally discovered this recipe, but I've made it dozens of times over the years and it always turns out well. And even though it's vegan, I've been known to use it as a topping for chili-cheese dogs. #sorrynotsorry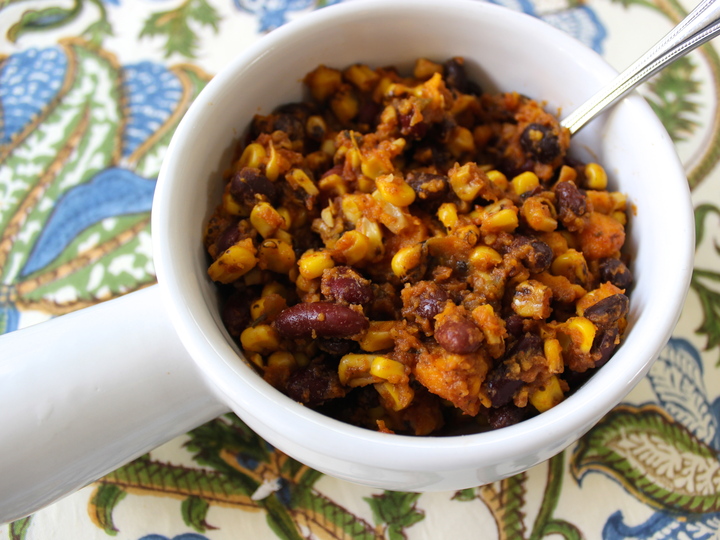 Slow-cooker veggie chili (Serves 6-8)
1 sweet potato
1 (15.5 oz) can black beans
1 (15.5 oz) can kidney beans
1 bag (about 10 oz) frozen corn (I usually use fire-roasted corn, but regular is good, too)
1 packet (1/4 cup) taco seasoning
1 (16 oz) jar salsa
Peel the sweet potato and cut it into roughly 1-inch cubes. Place the cubes in the bottom of a slow cooker. Thoroughly drain and rinse the beans, then add them to the slow cooker. Dump in the frozen corn, taco seasoning and jar of salsa. Stir to combine, then put the lid on the slow cooker and turn on low. Cook on low for 8-10 hours, then stir again and serve warm.