I'm sure you've noticed that I am a certified tea fanatic, and going somewhere for afternoon tea is my favorite. Thank goodness I have friends and family who will indulge my tea and scone addiction, or I would just be stuck drinking a pot of tea by myself in my house every day (like usual).
So, even though it was over 90 degrees the other day, Isabel and I bravely ventured inland to La Mesa for hot tea, tiny sandwiches and adorable desserts.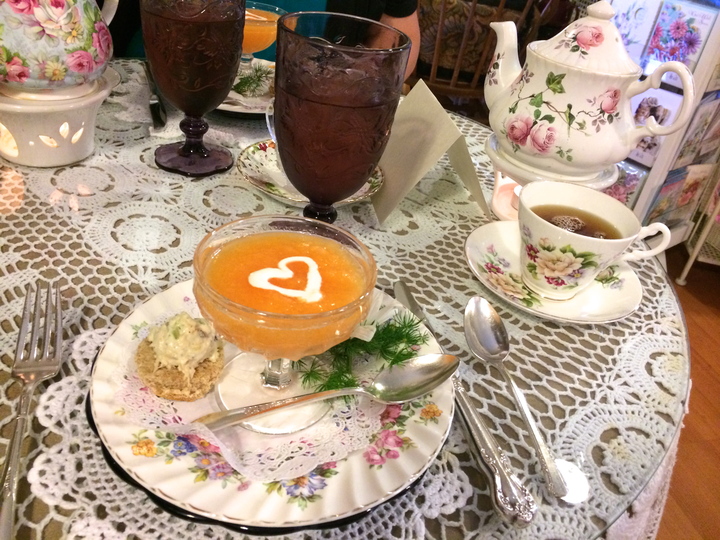 I don't want to bury the lead, so I will say upfront that we really enjoyed the whole experience at the Aubrey Rose Tea Room, and would rank it about equal with our other San Diego-area favorite, Tea Upon Chatsworth. On the day we went, they started with canteloupe soup decorated with a heart, and a dollop of chicken salad on a teeny piece of bread. I usually despise canteloupe, but I didn't mind the soup — and the chicken salad was delicious.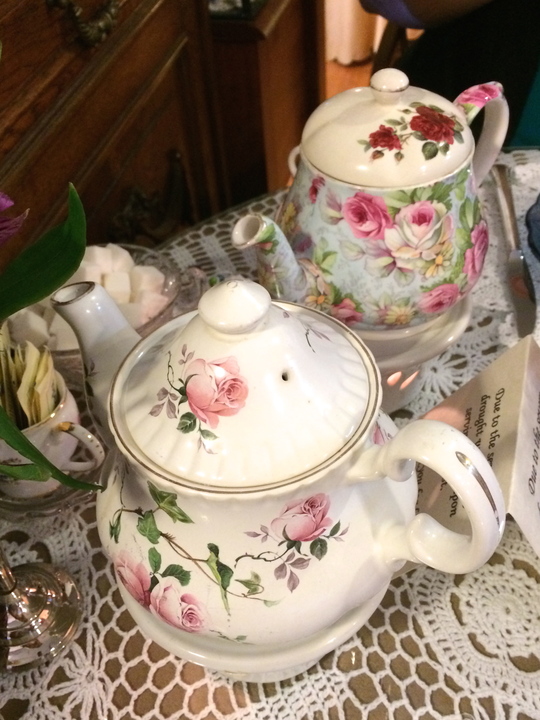 Isabel ordered a blend of black teas (we think it was called something like Princess Catherine), while I drank a whole pot of Buckingham Palace (an Earl Gray-type tea) before polishing off a pot of the Aubrey Rose house blend (black tea with various fruits and flowers). All of the tea was very good (although I thought Isabel's was a tad oversteeped), and I bought small satchels of the Buckingham Palace and the Aubrey Rose.
The tea tray was full of sweet and savory bites, and some of them were fantastic while others were just good. Nothing was bad, though, and I actually had to stop eating so I could save room for the scones!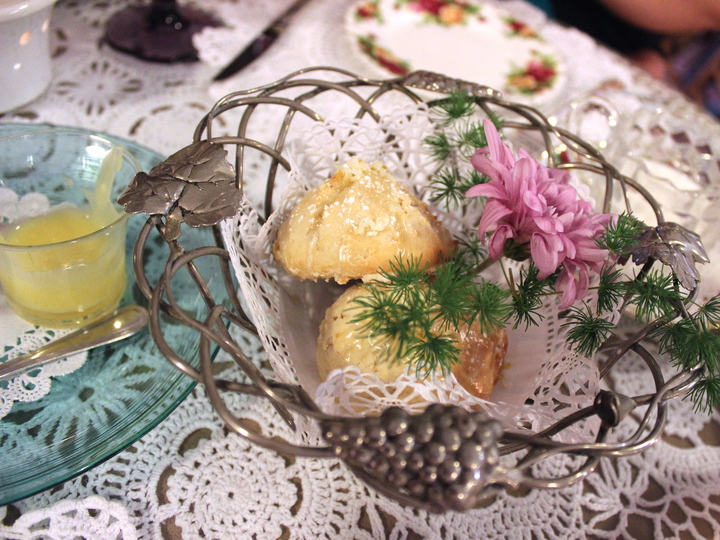 The Aubrey Rose serves their scones at the end of the tea, sort of like a dessert course, which is a bit unusual. But the scones — fresh from the oven and served with cream and lemon curd — were so sweet that it kind of made sense.
Please excuse the lighting in these photos — there was a lot of natural light in the tea room, but we were sitting behind a shelf with tea pots and other gifts on it. It was kind of nice, though, because in addition to having loads of tea-related things to buy, the shelves and racks helped section off some of the tables so they felt a bit more private, even though it was nearly full on a Wednesday afternoon.
Since it was crazy hot, I wore this floral sleeveless dress (which matched my tea cup!) and sparkly heeled jellies — both of which, coincidentally, came from England. As I mentioned near the top, we had a great time and will definitely go back to the Aubrey Rose Tea Room… though we may wait until the weather cools off!