For UGA's first football game of the season, I wanted to make something breakfast-y that said "Georgia." And there are few things that invoke both Georgia and breakfast foods more than Waffle House.
I had seen and heard of Waffle House before I moved to Athens for college, of course, but I'm pretty sure I had never gone into one. And it wasn't the kind of place I would have ever suggested eating.
So the first time my sorority big sister asked if I wanted to go to Waffle House with her to study, I am 99 percent sure I looked at her like she had three heads. But it was just the first of many trips — most of which involved Russian flashcards and pecan waffles.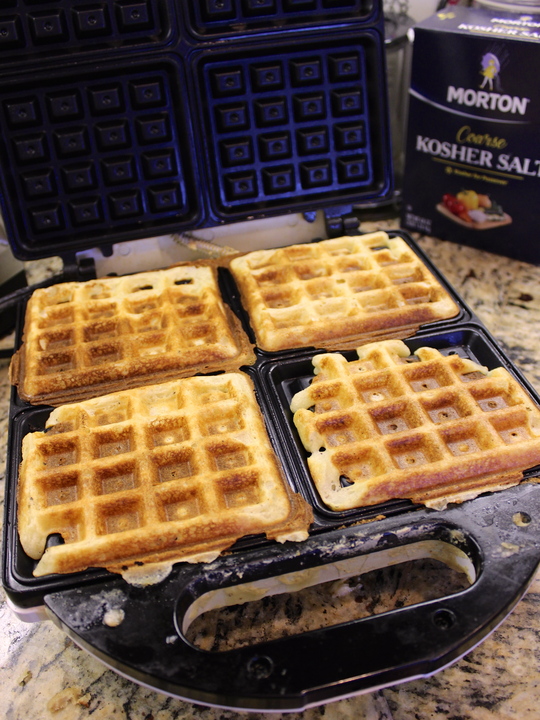 But I never loved any of the food at WaHo, and the waffles for sale at any given kiosk in Belgium are far superior to the ones at the Waffle House on Milledge Avenue. So I decided to take things a bit upscale, and make brown butter yeasted waffles with a variety of delicious toppings.
The pancake batter is assembled the night before, so you won't be browning butter and measuring flour in the morning. And most of these toppings require almost no work: Maple syrup (straight from Canada), fresh blueberries, pecans and chicken fingers. But I wanted something extra special — and extra Georgia-ish — so I also cookes some peaches in butter, brown sugar and bourbon (always a good combination).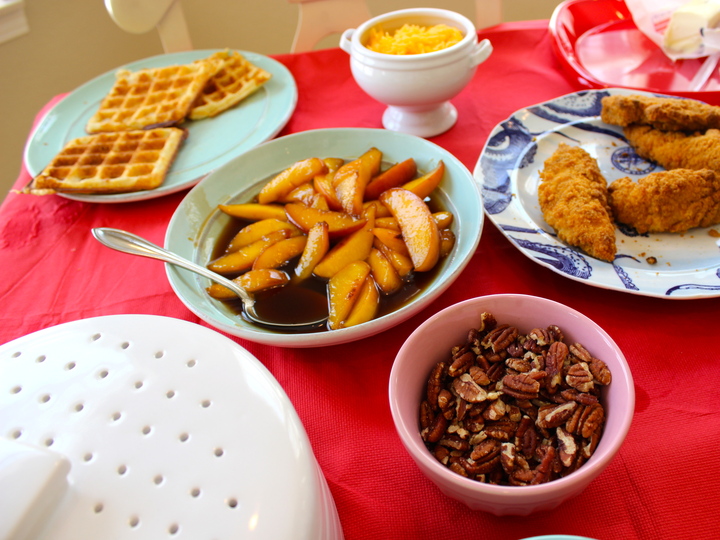 Interestingly enough, the first Waffle House opened in Georgia on Labor Day in 1955, so my timing was impeccable.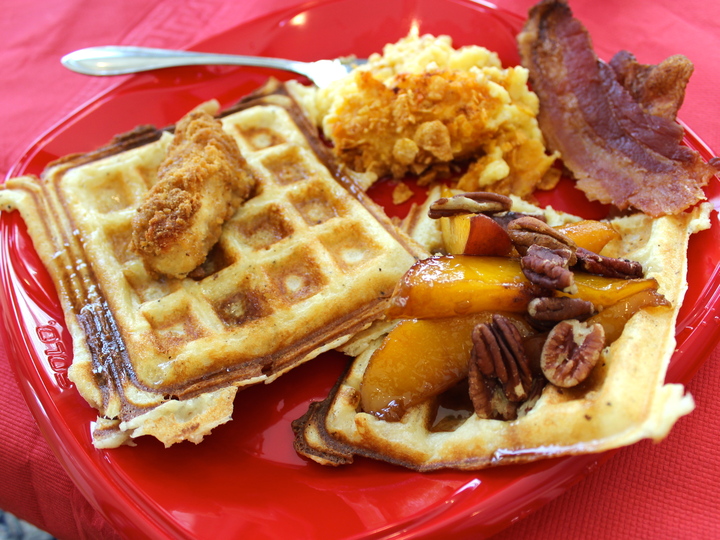 I learned too late that I really need a new waffle maker, but the waffles themselves were amazing. The flavor and texture are great, and the bourbon peaches are a definite win as well. We supplemented the waffles with cheesy grits casserole, bacon and some other treats, and were all completely stuffed (and happy) by kickoff. And the Dawgs won! Pretty much a perfect afternoon.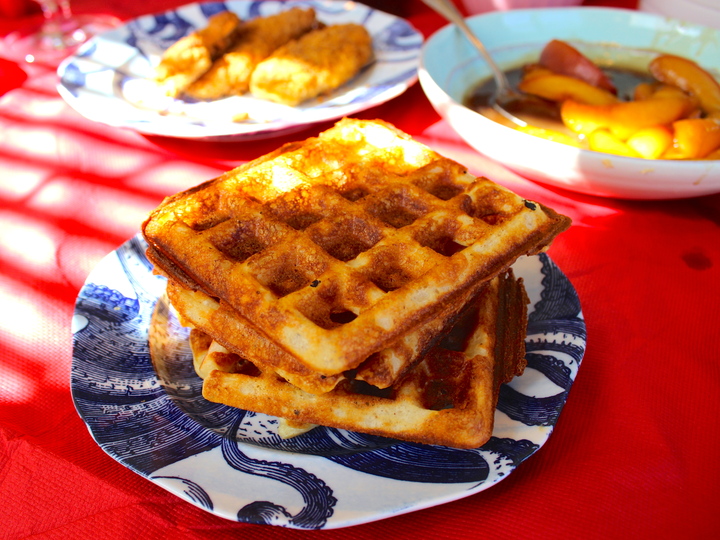 Brown-butter yeasted waffles (Adapted from Bon Appetit, serves 8)
3/4 cup (1 1/2 sticks) unsalted butter
2 cups whole milk
1/2 cup buttermilk
2 tablespoons sugar
1 1/4-ounce envelope active dry yeast (about 2 1/4 teaspoon)
1 1/4 teaspoon kosher salt
2 cups all-purpose flour
2 large eggs
1/4 teaspoon baking soda
Nonstick spray
Melt the butter in a small saucepan on medium heat, swirling the pan often, until the butter melts, foams, makes somewhat alarming crackling sounds and then turns brown (don't let it burn!). This will probably take about five minutes. Once the butter is brown, pour it into a bowl and let it cool.
Once the butter is close to room temperature, heat the milk in the microwave until it feels very warm to the touch. Warm the buttermilk so it's roughly room temperature.
In a large bowl (larger than you think you need), whisk the warm milk, buttermilk, sugar, yeast and salt together. Add the flour and brown butter and whisk to combine. The batter will be very runny, but cover it with plastic wrap and let it sit at room temperature for at least 8 hours (or as long as 12). It should start rising pretty quickly.
If you're making the bourbon peaches, start that before you make the waffles. When you're ready to make the waffles, preheat the oven to 250F, and heat your waffle iron.
Whisk the eggs and baking soda into the batter. Spray non-stick spray on the waffle iron and spoon a bit of batter onto the waffle iron (the amount will vary based on your waffle iron, but if you put too much in there, batter will run out the sides when it's closed… so, watch out for that). Cook the waffles until they are golden brown. (Note: If the batter still seems too runny and the first batch of waffles doesn't cook properly, add a little more flour to the batter.)
Keep the first few waffles warm on a cookie sheet in the warm oven while making the rest, or serve immediately.
Bourbon peaches (Adapted from Gourmet)
4 large ripe peaches
1/4 cup (1/2 stick) unsalted butter
6 tablespoons packed light brown sugar
1/3 cup bourbon
1/4 teaspoon cinnamon
1/8 teaspoon salt
Peel the peaches (if you have the time and inclination), then cut them into thin wedges. Melt the butter in a 10- or 12-inch skillet over medium heat, then stir in the brown sugar, bourbon, cinnamon and salt. Once the mixture is smooth, add the peaches and allow them to simmer in the brown sugar mixture, stirring occasionally, for 3 to 5 minutes or until the peach slices are soft and the sauce is bubbly. Serve over the warm waffles.