While I hate basically everything card companies and Hollywood studios serve to us as "romance," I do have a soft spot for Valentine's Day. I guess it's all the red and pink hearts, plus the opportunity for adorable treats.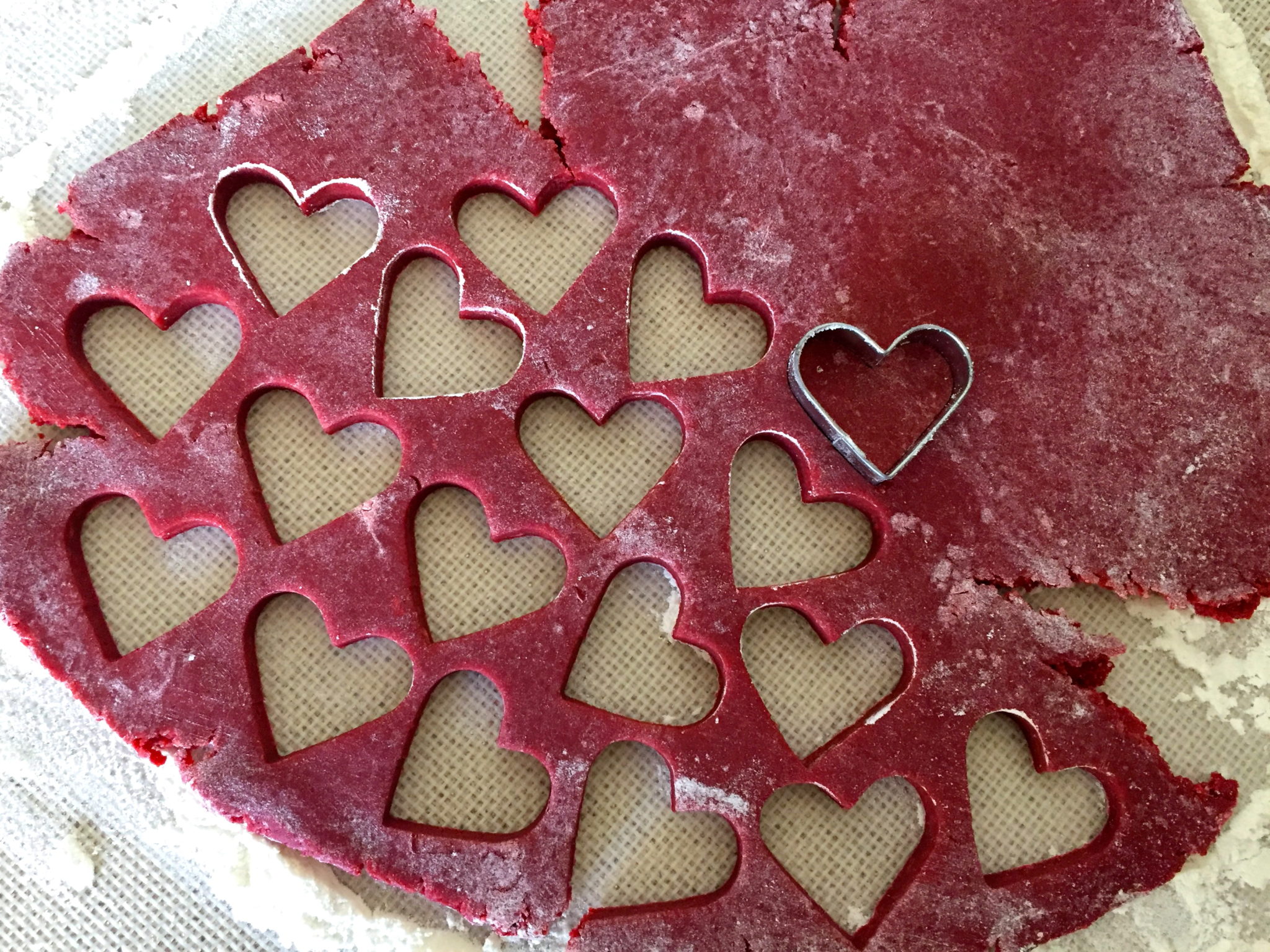 This year, after I saw the super cute red heart cut-out cookies on the cover of Better Homes & Gardens, I knew I had to tweak the recipe and make some homemade red velvet heart sandwich cookies. I mean, really. How could I not?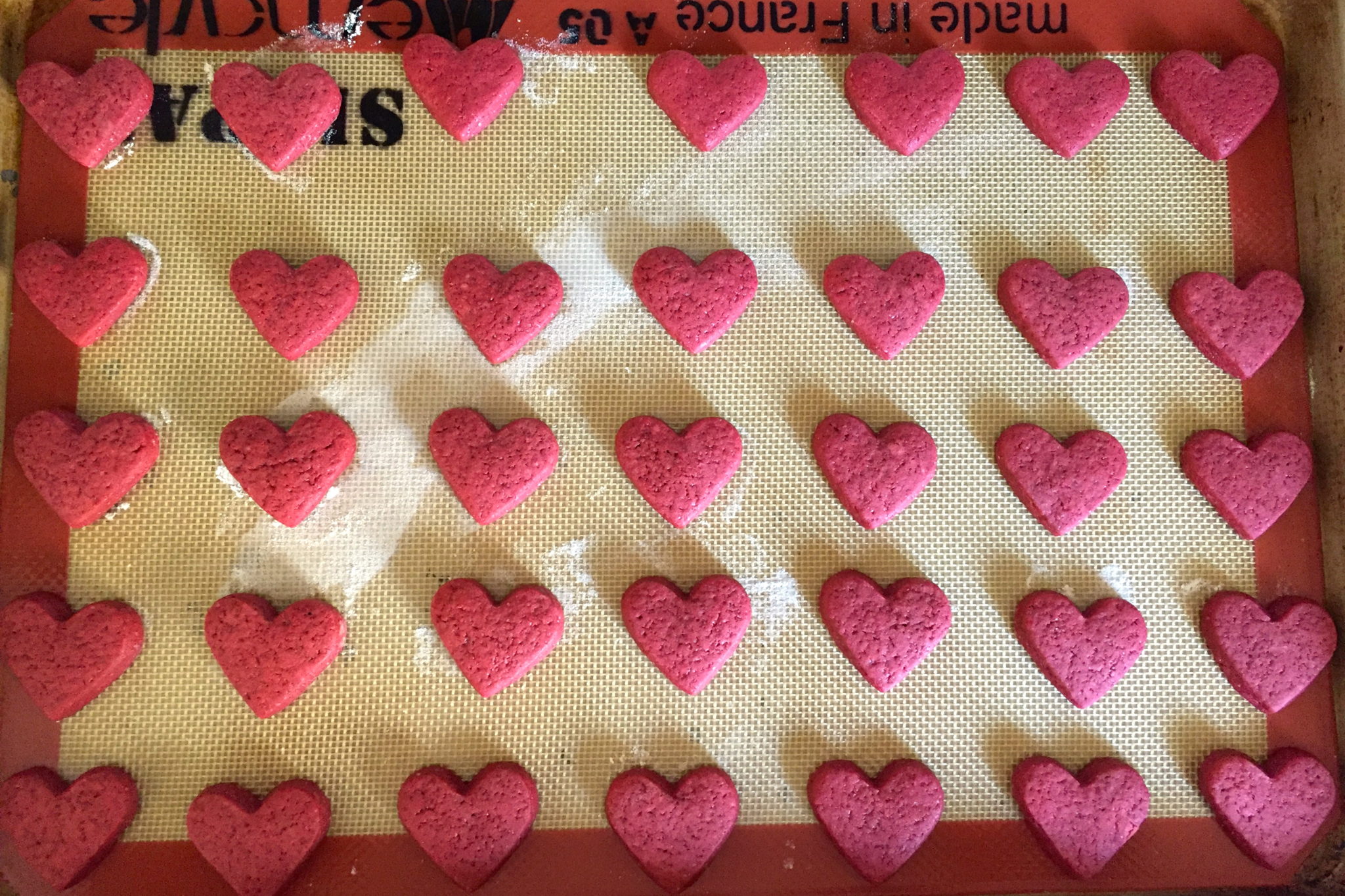 I started off rolling the cookie dough a little on the thicker side, but soon realized that thinner is better in this case. As for the filling, I went with cream cheese frosting to play off the red velvet flavor, but you could also do a simple buttercream if you'd prefer, or even use raspberry jam.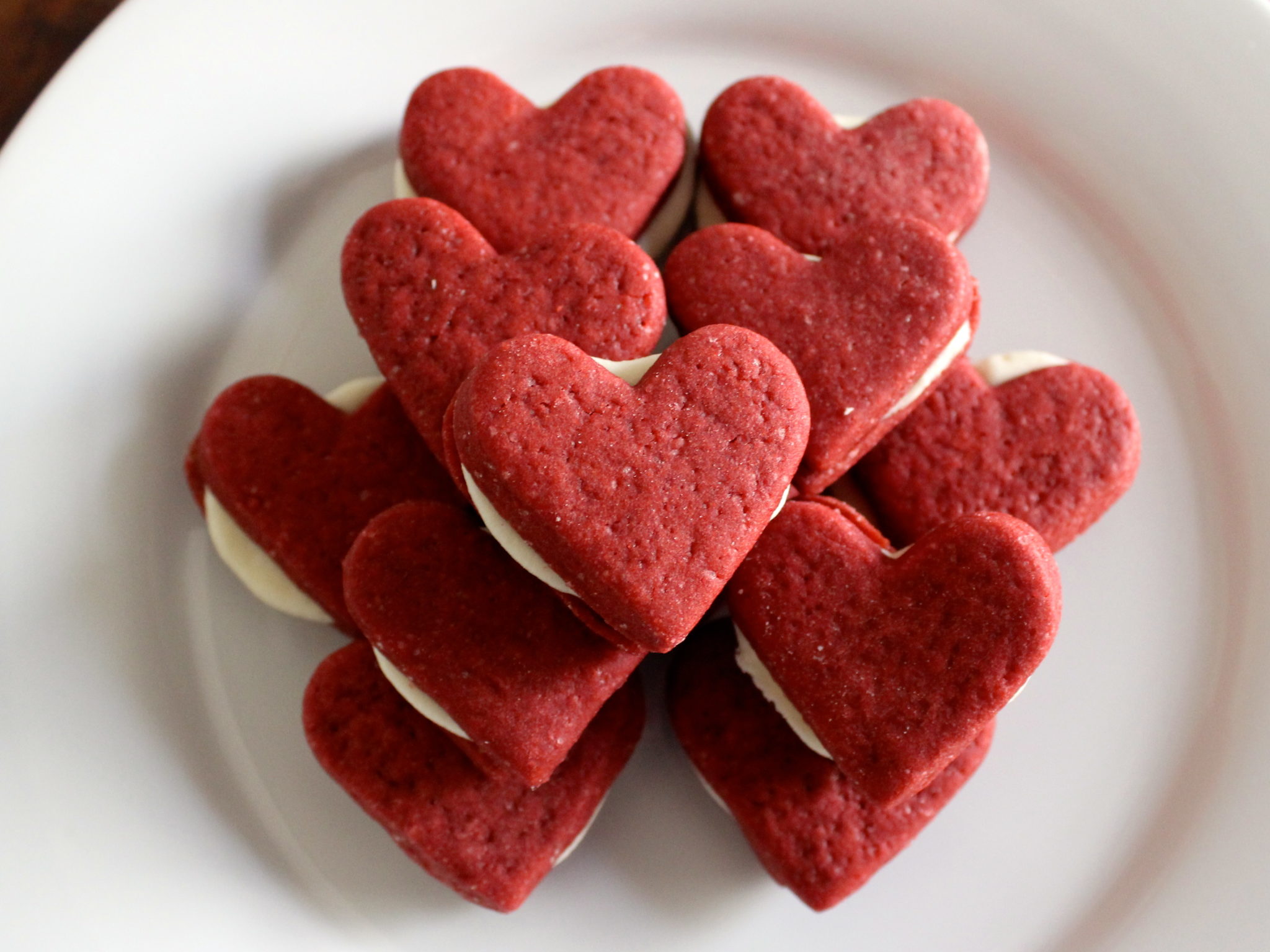 The sugar at the local grocery stores here is not as finely granulated as American sugar, so I usually put it in the blender for a few seconds. This time I didn't, which is why some sugar crystals are visible in these cookies. Yours will probably be smoother.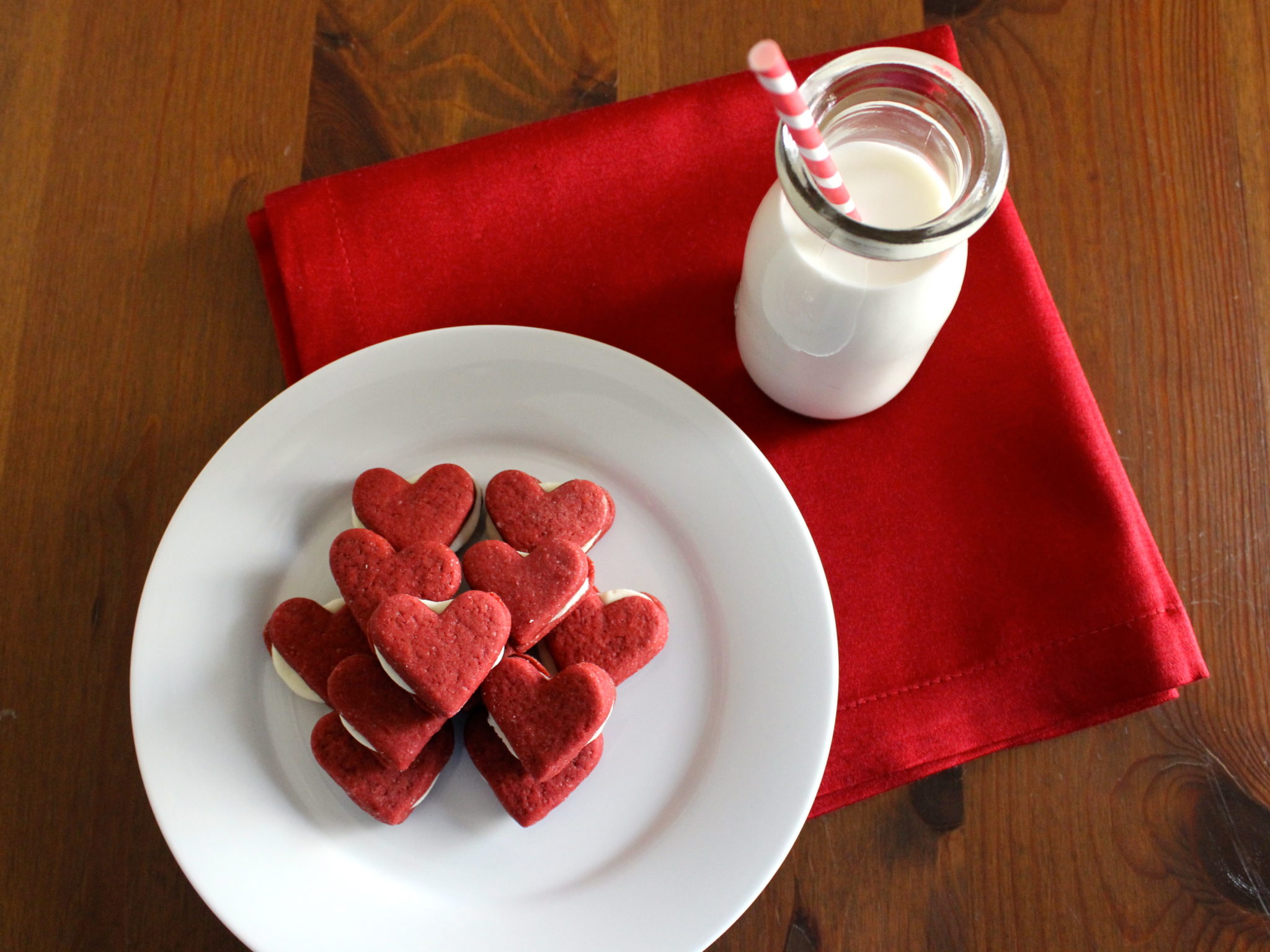 These turned out lovely — just a bit of red velvet flavor with a kick of cream cheese, sort of like taking a tiny bite of red velvet cake. And they're great with a glass of milk, just like those OTHER sandwich cookies. 😉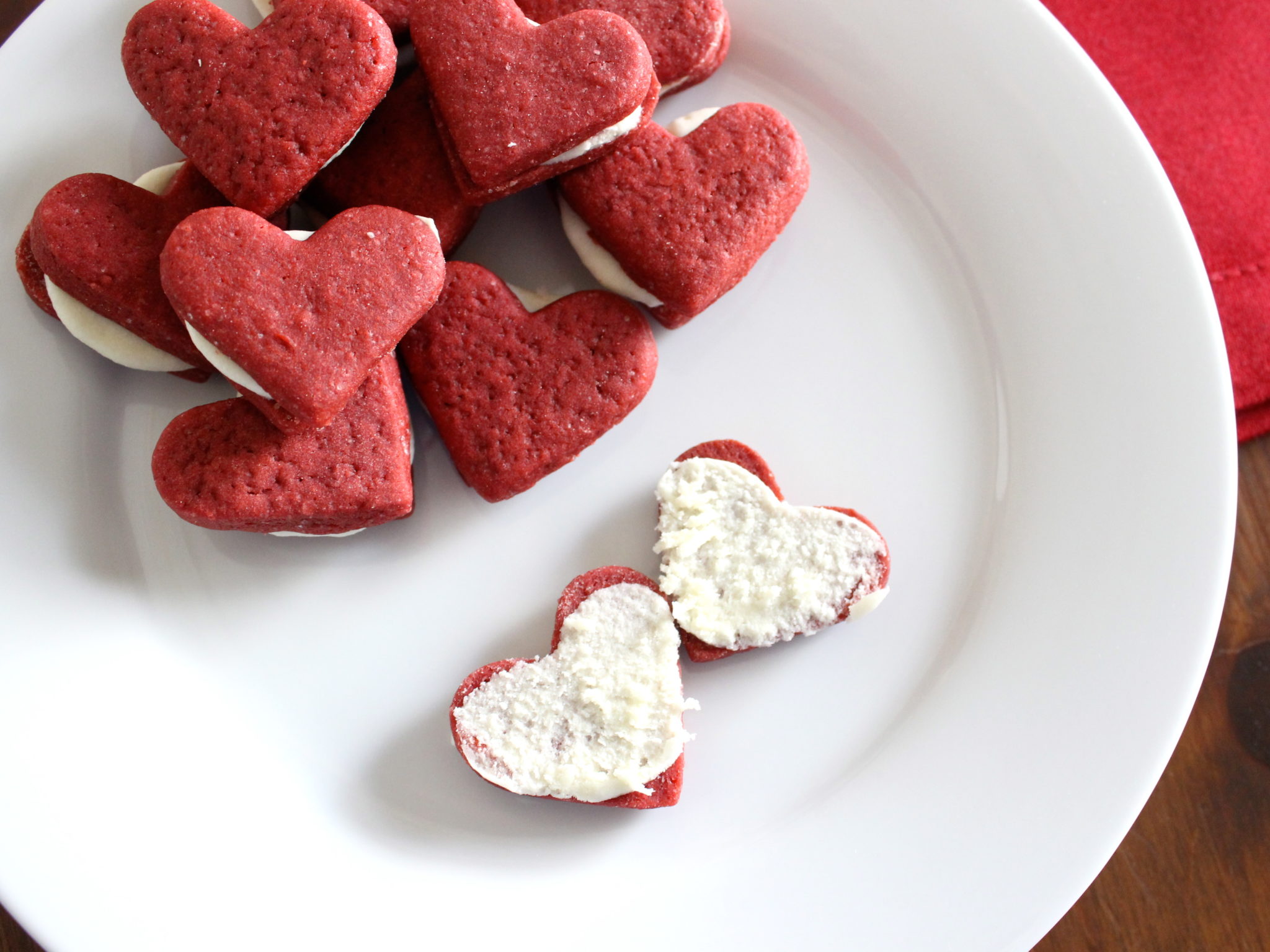 Red velvet sandwich cookies (makes about 100 tiny sandwiches, using a 1 1/2-inch heart cookie cutter. Adapted slightly from Better Homes & Gardens)
2 sticks of butter (1 pound or 455 grams), at or near room temperature
1 1/4 cups granulated sugar
3 tablespoons unsweetened cocoa powder
1 teaspoon baking powder
1/2 teaspoon salt
2 large eggs
1 tablespoon liquid red food coloring
1 1/2 teaspoons vanilla extract
2 3/4 cups all-purpose flour
cream cheese frosting (recipe below)
Beat the butter in a large mixing bowl or the bowl of a stand mixer fitted with the paddle attachment for 30 seconds on medium to high. Add the sugar, cocoa, baking powder, and salt, and beat until combined.
Scrape the sides of the bowl and beat again, then add the eggs, food coloring, and vanilla, and beat until well combined.
Add the flour about a cup at a time, beating on low just to combine before adding more. (You may have to stir in the last bit of flour by hand).
Split the dough into two parts, wrap each in plastic wrap, and put in the refrigeratore for at least an hour (overnight is fine).
Preheat your oven to 375F and prepare two cookie sheets by covering them with parchment paper or silicone baking mats. On a clean, lightly floured surface, roll the dough out thinner than you would regular cutout cookies, then cut with a heart cookie cutter. Place the cookies about an inch apart on the cookie sheets and bake 6-8 minutes, or until they appear to be just baked through in the middle (the bottoms may be slightly darker, but you don't want them to brown around the edges).
Let the cookies cool on the cookie sheets for at least a minute or two (I usually put the cookie sheets on racks for a few minutes), then move the cookies themselves to the wire racks to cool. Make sure they are completely cooled before putting any frosting on them!
Cream cheese frosting
4 ounces (half a package) cream cheese, at or near room temperature
2 tablespoons unsalted butter, at or near room temperature
1/2 teaspoon vanilla extract
2 cups powdered sugar
milk, as needed
Beat the cream cheese and butter together (using a handheld mixer or stand mixer) until blended and fluffy. Add 1 cup of powdered sugar and beat on low to combine, then add the other cup and beat to combine. Once the sugar is combined with the other ingredients, increase the mixer speed to medium or high and beat until the frosting is light and fluffy. Add a tablespoon or so of milk if needed to make the frosting spreadable.
To make the sandwich cookies: Place several cookies top down on a plate. Put some of the cream cheese in a plastic bag and cut off one of the corners, then use the bag to pipe V shapes onto the cookies with the frosting (or just use a butter knife to spread it). Top those cookies with cookies of similar size and thickness (top side up), and press together gently so the cookies stick together but all of the frosting doesn't ooze out the sides.
Eat immediately or store the cookies in the refrigerator, then let them come to room temperature before serving.