It's beginning to look a lot like Christmas, but if you're anything like me, you haven't crossed everyone off your shopping list yet. Today, I wanted to share some suggestions for the fitness fan in your life, whether she loves running, obstacle racing, yoga, swimming, or barre. And, because I love you, I'm giving away a code for a free Spartan Race in 2017! Enter at the bottom of this post. (Update: Contest has ended)
Gifts for runners and Spartans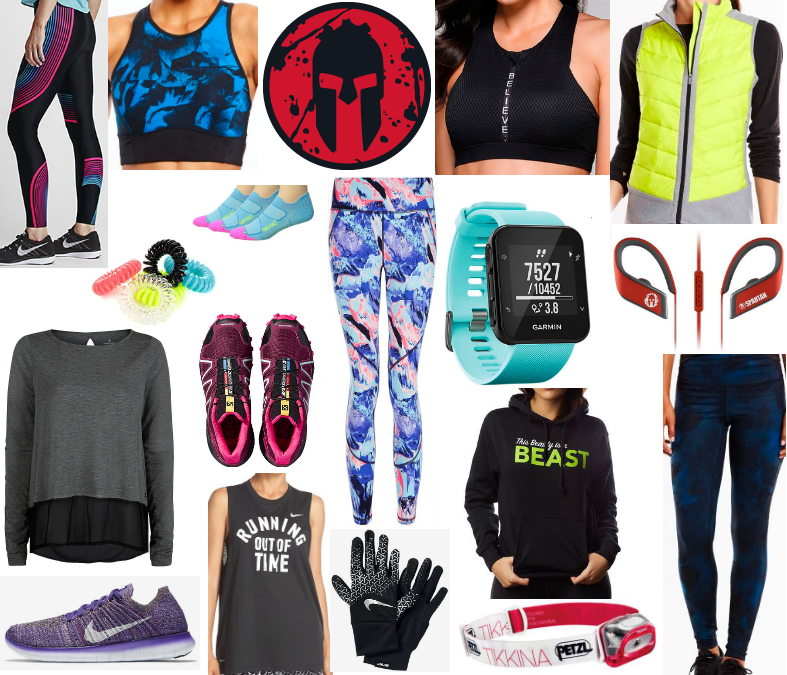 An all-access pass: Spartan Race just introduced race passes that give runners access to multiple races in the continental U.S. throughout the year — you can choose from three races (to complete the Trifecta!), an open season pass, or an elite season pass. And since the pass gives the holder access to the races of their choice, it makes an awesome gift!
Tights: It's no secret that I love prints, but the pants still have to fit! Lucy's perfect core leggings keep everything sucked in, Nike's power speed compression leggings have panels to support key muscles, and Sweaty Betty's power leggings are flattering for any activity.
Shoes: Trail and obstacle course runners need trail shoes, but Nike's lightweight Free RN Flyknits are perfect for road and treadmill running.
Sports bras: Ban the bounce with high-impact sports bras made for running. Blue patterned bra, Believe sports bra, my favorite running bra
Something warm: Winter can be rough for runners. Help them out with a warm (and brightly colored) vest, a long-sleeved running top, a toasty Spartan sweatshirt, and running gloves.
Tech and other accessories: A headlamp may look silly, but it's a life saver during winter months when the sun only seems to be out during work hours. Wireless headphones are a no-brainer, hair toggles look like an 80s phone cord but keep even thick hair in place, and everyone could use more socks. If you're feeling really generous, maybe a smart watch that tracks runs, sleep, and everything in between?
Gifts for swimmers and surfers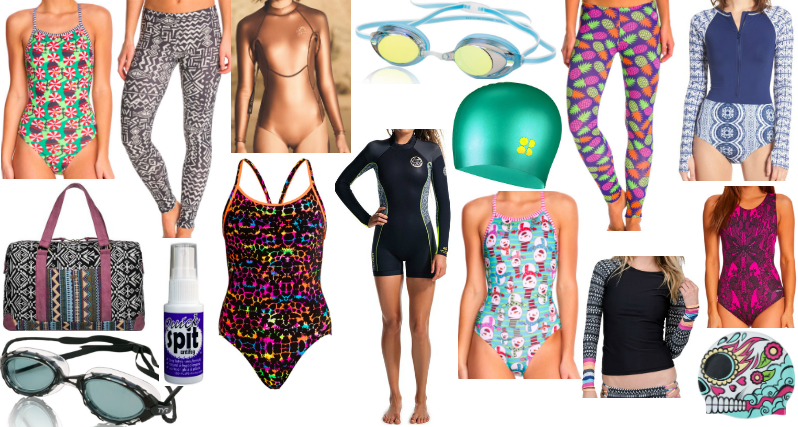 A holiday bathing suit: Maybe a peppermint bathing suit or a snowman bathing suit?
Goggles: These are a great stocking stuffer! I have this kind, and this kind, but this style is also good for triathletes and anyone who swims for long periods of time.
Wetsuit: For the surfers in your life, check out this Rip Curl long-sleeved shorty suit and the rose gold long-sleeved bathing-suit style wetsuit. Please note that triathalon wetsuits are different than surf wetsuits!
Surf leggings: Great for stand-up paddleboarders, too! Try these pineapple leggings, or these black and white patterned leggings.
Rashguard: You don't have to be a surfer to appreciate the sun protection a rashguard provides! This black one with patterned sleeves will go with a lot of bathing suits, or get a long-sleeved bathing suit with a built-in rash guard!
Swim cap: Another good stocking stuffer! I like this metallic green one, and the sugar skull.
Year-round bathing suits: I like patterned bathing suits with more coverage in the back, like this pink and black lace-print one. But this black and rainbow patterened thin-strap suit is super cute, as is this mermaid scale one!
More: Still not sure what to get? Try this patterned bag, or anti-fog spray.
Gifts for yogis and barre-bies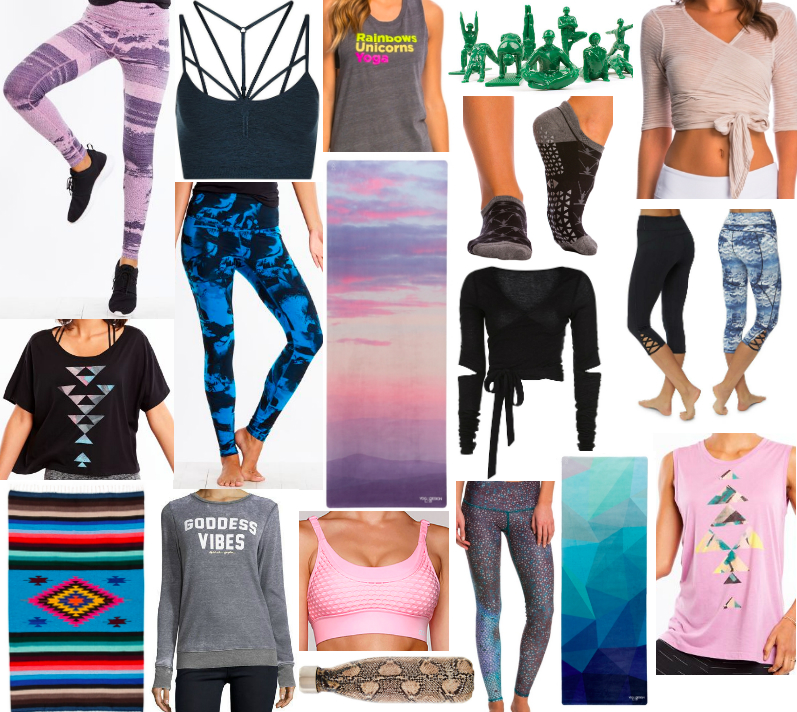 A beautiful (and functional) yoga mat: Yes, your favorite yogi probably already has a mat, but since it's probably already well-loved, a new and extra-special one will definitely be appreciated.  Sunset mat with built-in towel, blue geometric pattern mat, Mexican blanket, rug-patterned mat
Leggings: Because going out in public without pants is frowned upon. Pink ocean print, high-waited blue and black abstract, reversible barre crops, mermaid fairyqueen leggings (made of recycled plastic bottles!)
Cute bras and tops: Yoga and barre generally don't involve a lot of jumping, which means we can wear cuter, less restrictive sports bras. I love this pink one and this strappy one. And she'll probably want a top to go over that sports bra. This unicorn tank, pink tank, and black printed top are all good choices. I also have this "Namaste y'all" one.
After class cover-ups: I love wrap tops — they go over leotards, sports bras, and fitted workout tops perfectly (for before, during or after class), and the style has a definite ballet vibe. Check out this black long-sleeved one, or elbow-sleeved pink one. Or gift your favorite yoga goddess with a sweatshirt made for her.
Accessories: A gorgeous insulated water bottle, some sticky socks for barre class (stay away from the toe socks, especially for those of us with tiny toes!), or, my favorite: Yoga Joes!
Once you've finished buying all those gifts for other people, you'll also need a gift for yourself! Enter here to win a code for entry into any Spartan Race in the continental U.S. in 2017!
Update: Congratulations to Aaren, the winner of this contest!
*Please note: This post contains affiliate links, and the free race code was provided to me by Spartan Race. All opinions are my own*