Turkey gets all the attention, and you know I love me some cranberry sauce and sweet potatoes. But if we're being honest, pie is really the best thing about Thanksgiving, right?
I'm definitely in the "a little of each" camp when it comes to pie — I can't choose between pumpkin and pecan, and I'll even have some apple if you're offering. But having multiple pieces of pie (regardless of how tiny the slivers are) after a giant carb-filled meal is not always possible. So my interest was definitely piqued when I saw this sweet potato-pecan pie in Sunset magazine.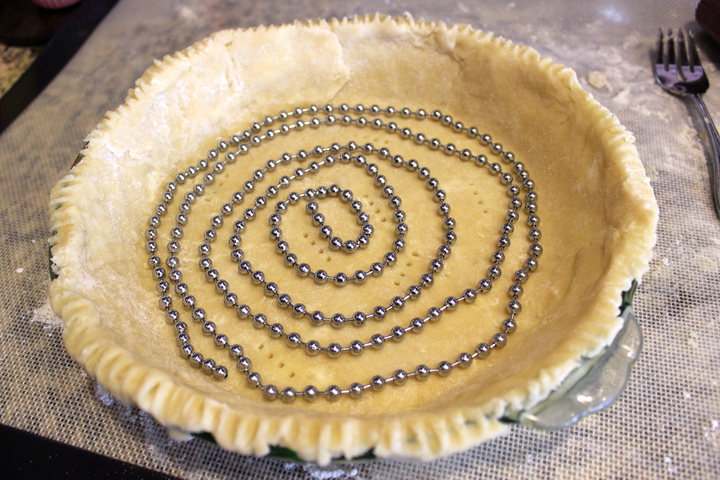 I actually had never had sweet potato pie before, as far as I can recall, but I figured (correctly) that it wouldn't taste significantly different than pumpkin. It is definitely close enough to fool a 3-year-old who had been proclaiming his desire for "punkin pie" all night. He even performed a pie dance to express his excitement.
Sammy wasn't feeling the pecans — he removed them and put them in my hand to throw away. But I loved the pecan topping so much that I might consider sacrificing the aesthetic appeal of the orange sweet potato filling peeking through in order to cover the whole thing in gooey pecan goodness.
The sweet potato part was also crazy good, though, and a really nice custardy texture. Of course, if this isn't what you're looking for, you could try tiny pecan pies, purple sweet potato pie bars, chocolate-bourbon pecan pie, pumpkin-gingerbread trifle, pumpkin gooey cake, pumpkin-pecan fudge or brown sugar buttermilk pie.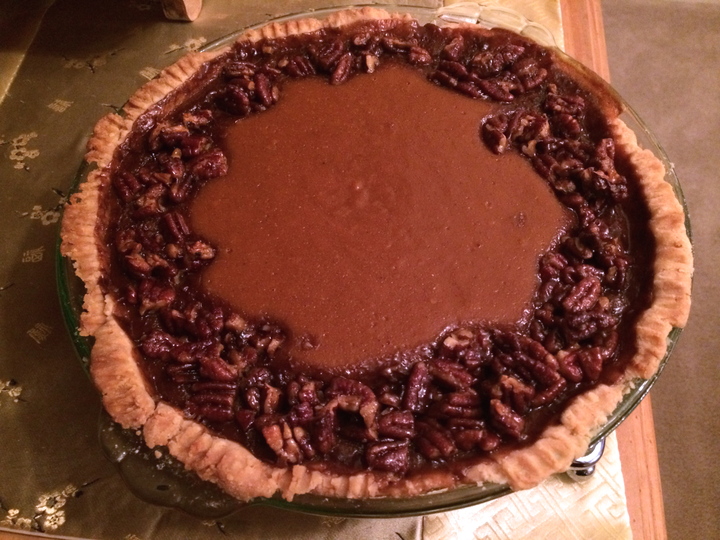 The hardest part of this whole enterprise (for me, at least) was making a gluten-free crust, and it was so crumbly that I was convinced it would taste terrible and fall apart. But, to my surprise, it turned out fine and actually tasted buttery, flaky and not so different than the regular gluten-filled kind. I'd still recommend making a regular pie crust if you aren't cooking for anyone with a gluten sensitivity, but the recipe below works well if you need it.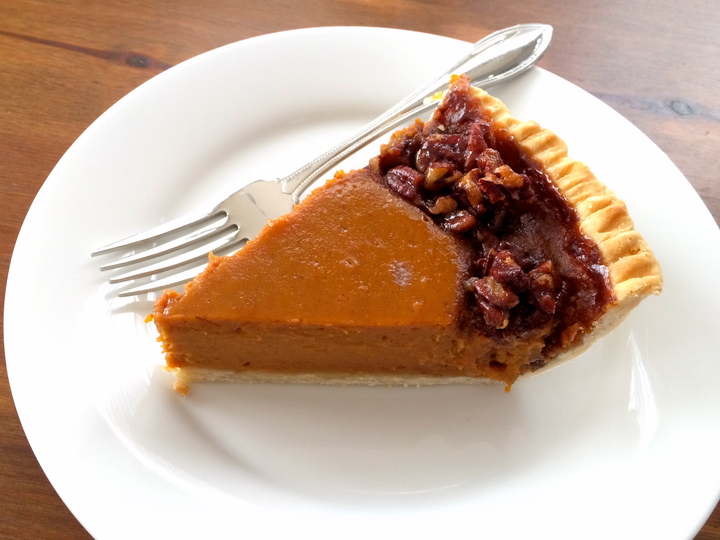 Sweet potato-pecan pie (Adapted from Sunset, makes one 9-inch pie)
Sweet potato filling
3-4 large sweet potatoes (orange)
3 tablespoons unsalted butter
3 large eggs
2/3 cup packed brown sugar
1/3 cup granulated sugar
3 tablespoons heavy cream
2 1/2 teaspoons real vanilla extract
3/4 teaspoon ground cinnamon
1/2 teaspoon kosher salt
1/4 teaspoon ground allspice
1/4 teaspoon nutmeg
Pecan topping
1 tablespoon unsalted butter
2 tablespoons packed brown sugar
1 tablespoon dark corn syrup
1 teaspoon real vanilla extract
1/4 teaspoon kosher salt
1/4 teaspoon cinnamon
1/2 cup chopped pecans
First, make and bake a pie crust (recipe for gluten-free crust below). Set the crust on a rack to cool, but keep the oven on at 375 F.
Rinse and dry off the sweet potatoes, then pierce them with a fork and bake for 75 to 105 minutes, or until they are very tender. Scoop the inside of the potatoes into a food processor (I used a blender, but a food processor would be better), and puree them until the mixture is very smooth. Measure out 2 cups to use for the filling.
Reduce the oven temperature to 350F. Melt the 3 tablespoons of butter. In a large bowl, using a hand-held electrice mixer, beat the eggs until they're frothy. Add the brown sugar, heavy cream, vanilla, cinnamon, salt, allspice and nutmeg and mix well, then add the melted butter and and sweet potatoes and beat until well combined. Pour the mixture into the crust and wrap aluminum foil around the edge of the crust to protect it (or use a pie shield, if you have one).
Bake the pie for 30 minutes. Once the pie is in the oven, melt the butter for the pecan topping, then stir in the brown sugar, corn syrup, vanilla, salt and cinnamon together until the mixture is smooth. Add the pecans and stir to coat them in the butter-brown sugar mixture.
After the pie has baked 30 minutes, carefully remove it from the oven and remove the foil. Use the spoon to drop small amounts of the pecan filling around the edge of the pie. Put the pie back in the oven for another 15 to 20 minutes, or until the center only jiggles a bit when you gently shake the pie. Allow the pie to cool for at least 2 hours before serving.
Gluten-free pie crust (Adapted from King Arthur Flour, makes a crust for one 9-inch pie)
1 1/4 cups gluten-Free multi-purpose flour (I used King Arthur brand, since that is where I got the recipe, but you can also use a brown rice flour blend)
1 tablespoon sugar
1/2 teaspoon xanthan gum (this is expensive and kinda hard to find, but it's necessary)
1/2 teaspoon salt
6 tablespoons cold unsalted butter
1 large egg
2 teaspoons lemon juice or vinegar
Whisk the flour, sugar, xantham gum and salt together in a medium or large bowl. Cut the cold butter into roughly tablespoon-sized pieces, then use your fingers to work it into the flour mixture until it's well combined but there are still some pea-sized butter chunks in the bowl.
In a small bowl, whisk the egg and vinegar (or lemon juice) together until the mixture is very foamy, then add it to the dry ingredients and stir until the mixture holds together in shaggy pieces. Add a bit of cold water, 1 tablespoon at a time, to the dough if you need it to make a dough ball.
Use your hands to gather the dough into a ball and wrap it in plastic wrap, then put it in the refrigerator for at least an hour (or overnight).
When you're ready to roll the crust out, preheat the oven to 375 F and grease a pie pan. Carefully roll the pie crust out on a piece of plastic wrap or a small-ish rolling mat sprinkled with some of the gluten-free flour. Pick the whole piece of plastic (or rolling mat) up and flip it over to put the crust into the pie pan (the crust will be pretty crumbly, so picking it up and transfering it is a giant pain). Carefully adjust the crust so it fits in the pie pan with a small bit hanging over the edge. Shape the edges into whatever decorative pattern you'd like, then poke a hole or two in the bottom with a fork and fill the crust with pie weights (or line it with aluminum foil and fill that with dry beans. If using pie weights, shield the edges of the crust with aluminum foil or a pie shield.
Bake the crust for 25 minutes, then carefully remove the pie weights (or beans) — they'll be hot! Bake the crust another 10-15 minutes, or until is light golden brown. Allow to cool before filling.