My mom makes the best Thanksgiving sweet potatoes ever. How do I know? Besides the fact that I have eaten them since (probably) infancy, every person I have ever served them to loves them — and usually asks for the recipe.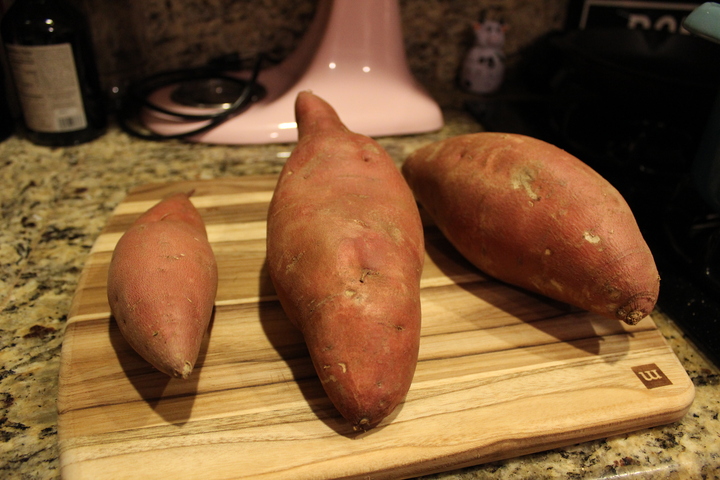 Obviously this don't have to only be made for Thanksgiving, but I'm not sure what to call the dish otherwise. I used to call it "sweet potato souffle," but it's not actually a souffle. And I don't really think it's a "casserole," either, but "mashed sweet potatoes" doesn't really cover it. Whatever you want to call it, it's simple and delicious.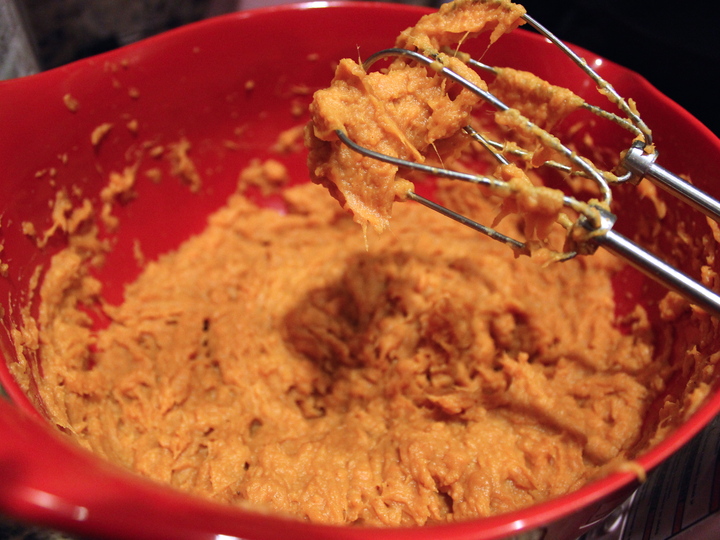 I'm sure it shocks absolutely no one that I am a big fan of marshmallows on my sweet potatoes. If you're not into that, you could use an oat-and-pecan mixture on top, or whatever you want. But you really should try the marshmallows.
Sweet potatoes (Serves 6-8)
5-6 small sweet potatoes (or 3 giant sweet potatoes)
1/2 stick (4 tablespoons) unsalted butter
1/4 cup (packed) brown sugar
1/4 cup milk
1/4 cup orange juice
1/2 teaspoon cinnamon
1/4 teaspoon ground cloves
1/4 teaspoon ground nutmeg
Pinch of salt
Marshmallows or mini marshmallows
Peel the sweet potatoes and cut them into roughly 2-inch pieces. Place them in a pot of water (the water should cover the potato pieces). Bring the water to a boil and continue boiling for 10-15 minutes, or until the pieces of potato are tender — you can test this by sticking a fork in one of them. If it goes in easily, the potatoes are done.
Preheat the oven to 350. Drain the potato pieces, then place them in a large mixing bowl with the butter and brown sugar. Let the butter melt a little, then use a hand-held electric mixer (start on low, them move up to medium) to mash the potatoes and combine them with the butter and brown sugar. Add the milk, orange juice and spices, and mix until everything is well combined. Taste the mixture to make sure you don't need more sugar or spices. Add more liquid if the mixture seems dry.
Pour the sweet potato mixture into a large baking dish. At this point, you can cover and refrigerate the dish overnight if needed, or go ahead and put it in the oven. Bake for 10-15 minutes (longer if it has been refrigerated), or until the mixture is heated all the way through. Cover the top of the sweet potato mixture with marshmallows and bake an additional 10-15 minutes, or until the marshmallows begin to brown. Make sure you keep an eye on the marshmallows so they don't burn!
Serve hot.