A couple of years ago, I learned that my friend Dan's favorite dessert is pineapple upside-down cake. I had never made (or even eaten!) pineapple upside-down cake, but it sounded pretty good, so I figured I'd try it. Long story short: It was delicious and really easy to make.
Anyway, I saw this recipe when I was searching for a dessert to make for a recent football brunch that Dan and his girlfriend, Kimberley, were attending. The cake is made in a bundt pan instead of a cast-iron skillet or regular cake pan, but otherwise it's very similar to the pineapple version — super easy and very delicious.
I used gluten-free Bisquick mix because Kimberley has a gluten sensitivity, but the regular or "heart smart" versions would work just as well. No matter which type of mix you use, the cake is soft and tender, with an awesomely gooey topping of peaches, pecans and buttery brown sugar. Perfect for brunch or any bundt-worty occasion.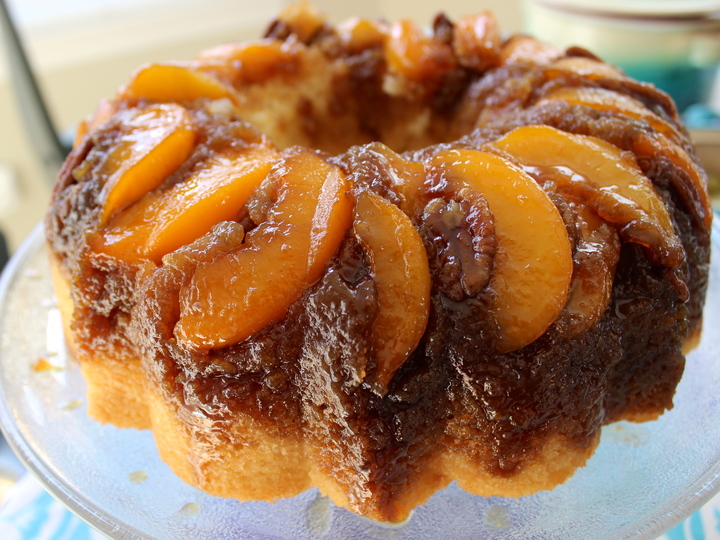 Peach-pecan upside-down cake (Serves 12ish, adapted slightly from Los Barrios Family Cookbook)
1 stick (8 tablespoons) unsalted butter
1 cup (packed) brown sugar
1 15.5-ounce can peach slices
about 1/2 cup pecan halves
2 cups Bisquick mix (I used gluten-free)
2 eggs
1 cup granulated sugar
1 cup milk (I used unsweetened almond milk)
3/4 cup canola oil
2 teaspoons real vanilla extract
Preheat the oven to 375 and melt the butter in the microwave. Pour the melted butter into the bundt pan and use a spoon to evenly sprinkle the brown sugar over the butter (you may also want to stir the butter/brown sugar mixture a little once it's in the pan, so there isn't any dry brown sugar just hanging out).
Drain the peach slices and arrange them around the pan, putting a pecan slice in between them as you go.
Stir the Bisquick mix, eggs, granulated sugar, milk, canola oil and vanilla together until the mixture is well blended. Pour that mixture into the pan over the topping, being careful not to disturb the peaches too much. Gently smooth the top of the batter before you put the pan in the oven.
Bake the cake for about 40 minutes, or until the cake springs back when pressed lightly with your finger (or until a toothpick inserted into the center part of the cake comes out clean). Allow the cake to cool on a rack for about 10 minutes, then put a cake plate facing down on the top of pan and flip the whole thing over, so the cake is right-side up on the plate.
Serve warm or at room temperature.