When I was in elementary school (probably around second grade?), my family went to Kansas to visit some relatives. The first night, we stayed in Witchita, and my dad uttered a sentence none of us have ever forgotten: "When we're on vacation, you can order whatever you want."
I had a giant bowl of guacamole (with chips) for dinner and a box of chocolate-chip cookies (with Coke) the next morning for breakfast. My mother was not pleased.
Anyway, the point of this story (other than the fact that you should totally order whatever you want when you're on vacation) is that I love guacamole. So living in California, land of plentiful avocados, is both delightful and a bit dangerous.
One of the ways I like to make it slightly less likely that I consume an entire tree's worth of avocados in one sitting is by making this salad. It combines all the flavors of guacamole into a colorful, fresh bowl of goodness that can be added to tacos and burritos, eaten as a side dish or even scooped up on chips.
I know that ripe avocados are basically impossible to come by most places (sometimes even around here), so if you want to make this or anything avocado-tastic, I recommend buying firm/not-ripe avocados a few days ahead of time and letting them sit out on the counter until they start to soften. Once they're ready, you can stick them in the refrigerator to prevent further ripening/softening. And always buy an extra avocado, in case one is bad.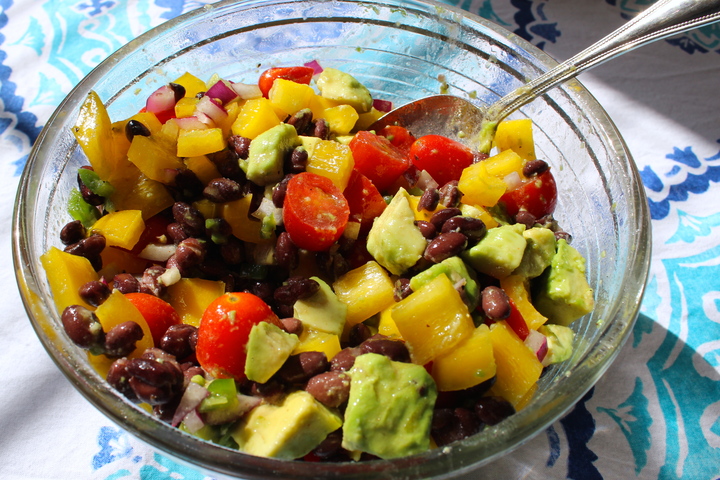 Guacamole salad (Adapted slightly from Barefoot Contessa at Home, serves about 6)
1 pint grape tomatoes
1 yellow bell pepper
1 (15-ounce) can black beans
1/2 red onion
2 jalapeño peppers (or one large jalapeño)
1/2 teaspoon freshly grated lime zest
1/4 cup fresh lime juice (2 limes)
1/4 cup extra virgin olive oil
1 teaspoon kosher salt
1/2 teaspoon freshly ground black pepper
1/2 teaspoon minced garlic
1/4 teaspoon ground cayenne pepper
2-3 ripe Hass avocados
Rinse the tomatoes, cut them in half and place them in a medium serving bowl. Remove the seeds and stem from the bell pepper (I do this by cutting around the stem in a circle, then slicing the body of the pepper in half. Then you can just pull out the stem and seeds), then dice it and put it in the bowl. Thoroughly rinse and drain the beans, then add them to the bowl.
Finely dice the red onion and add it to the bowl. Remove the seeds and stem from the jalepeno, then mince it. Add the lime zest to the bowl.
Juice the limes into a small bowl or measuring cup, then add the olive oil, salt, pepper, garlic and cayenne. Whisk the dressing, then pour about half of it over the vegetables and stir well. Add more of the dressing, if desired, then cover and refrigerate.
Just before you serve the salad, cut the avocados in half, remove the pit and cut the inside into roughly 1/2-inch pieces. Remove the avocado pieces from the skin and gently stir them into the salad. Serve chilled or at room temperature.