Do you guys remember those "Pork: The Other White Meat" commercials from the 80s? Apparently they worked pretty well, because every time I see the word "pork" — even in regard to wasteful spending in Washington — I think of that phrase. But I didn't really eat a ton of pork as a child, I don't think. Maybe a piece of bacon here or there (I was never super into it), ham smothered in honey on Easter, or pigs in a blanket. I didn't start eating pulled pork until I lived in South Carolina after college!
But Toby is definitely a carnivore, and pork tenderloin is one of his favorites. So I started making it… and realized it's quick, delicious and lean, so now it's one of my favorites, too.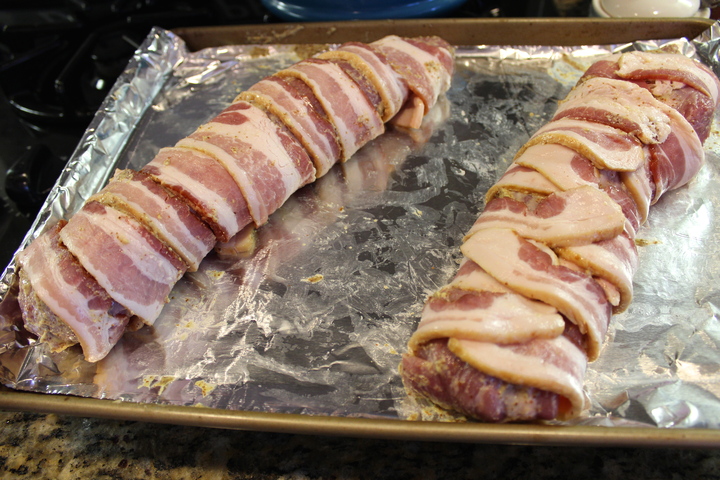 This particular recipe — which is super easy, by the way — comes from a class my mom and I took in Charleston, S.C. There's a bourbon-bacon sauce you can make for serving, but I skipped it this time because it contains a lot of onion and one of the friends we had over is allergic to onions. I'll include the recipe for the sauce below, though, so you can try it.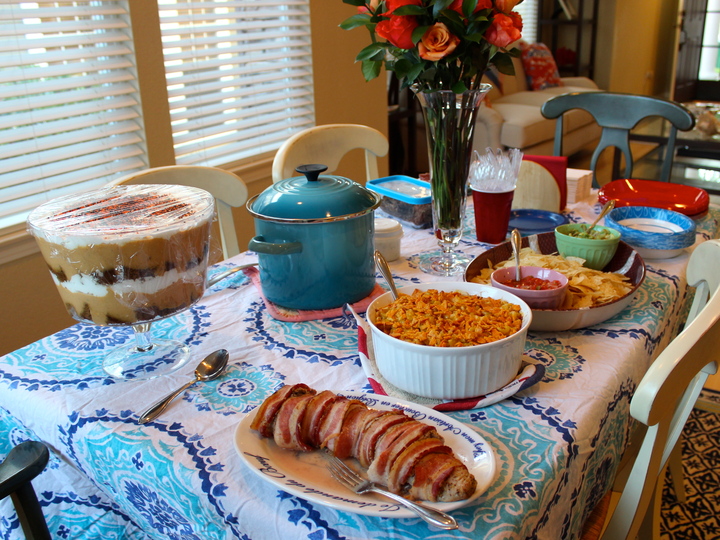 I served it for a football game, of course, with butternut squash soup and Cheez-It-topped macaroni and cheese. But it's easy and versatile enough that you could make it for a weeknight.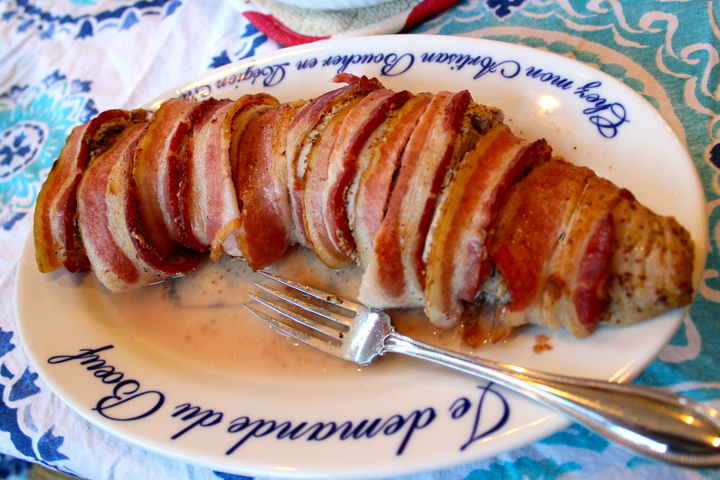 Bacon-wrapped pork tenderloin
2 pork tenderloins (sometimes two come in a package — make sure you don't get the pre-marinated kind)
10-12 slices of bacon
Dijon mustard
Preheat the oven to 350*. Rub mustard all over the pork tenderloins. Place 5 or 6 slices of bacon in a line on a baking sheet. Put the pork tenderloin in the middle of the bacon (if there is a thinner tail-like portion at the bottom, fold that over). Starting at the top and alternating sides, wrap the ends of the bacon up around the pork. When the pork is all wrapped up, put it in the oven. Cook until a meat thermometer reads at least 145, then take the pork out of the oven and let it sit for 10 minutes before serving.
*I cooked mine at 350 for about an hour and didn't use a meat thermometer. The bacon was not super crispy. You may want to put it at a higher temperature for a shorter period of time, or put it under the broiler for a minute or two when it gets close to 145. But it's good either way.
Bourbon-bacon sauce
6 slices bacon
1/2 medium red onion, large diced
1 cup bourbon
1 cup beef stock
Cut the bacon into large pieces, place it in a medium (cold) saute pan and cook on medium heat until crispy. While the bacon is cooking, dice the onion, then add it to the pan and cook for several minutes, until it becomes translucent.
Remove pan from the heat and add bourbon (carefully). Scrape up any brown bits on the bottom of the pan and return to heat. Add stock (and some pan drippings from the pork tenderloin, if you'd like) and cook until sauce reduces a bit and thickens. Season with salt and pepper to taste. Serve with pork tenderloin.