Despite the unseasonably warm temperatures in southern California, it's October and therefore pumpkin season. I do like a pumpkin spice latte on occasion, but I prefer pumpkin pie, pumpkin bread and other things that actually contain pumpkin. So when Toby suggested I make a trifle, my mind immediately went to pumpkin.
I thought about doing something with pumpkin cake, but after poking around online I realized that gingerbread + pumpkin pudding may be a better idea. Gingerbread isn't too difficult to make, but I wanted to figure out a happy medium between stirring some pumpkin into instant pudding and making a complicated pumpkin mousse.
I ended up adapting the vanilla pudding recipe I used for the strawberry shortcake trifle, and the result was a pumpkin pudding that tasted just like pumpkin pie filling. The gingerbread was also very good on its own, but the combination of gingerbread, the pumpkin pudding and freshly whipped cream was pretty amazing.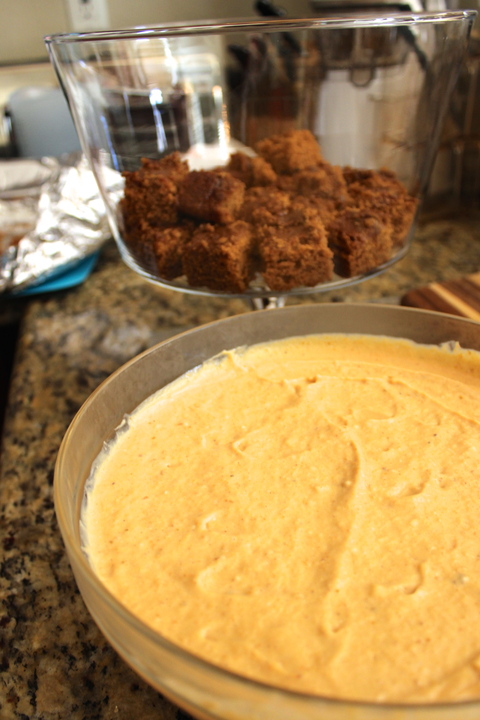 I haven't quite figured out how to make my trifles picture perfect, but I feel like a giant bowl full of cake and pudding is pretty impressive even if the layers don't stay completely seperate.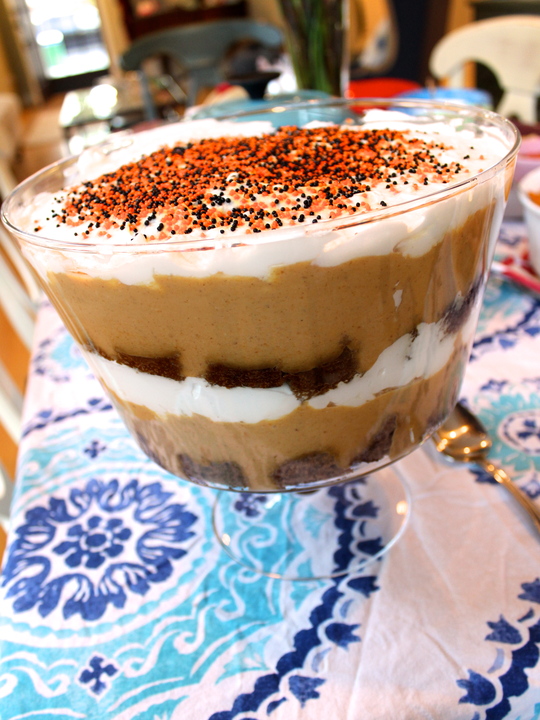 I topped the trifle with orange and black sprinkles, since I was making it for the Bengals game. You could also save a piece of gingerbread or two to crumble on top.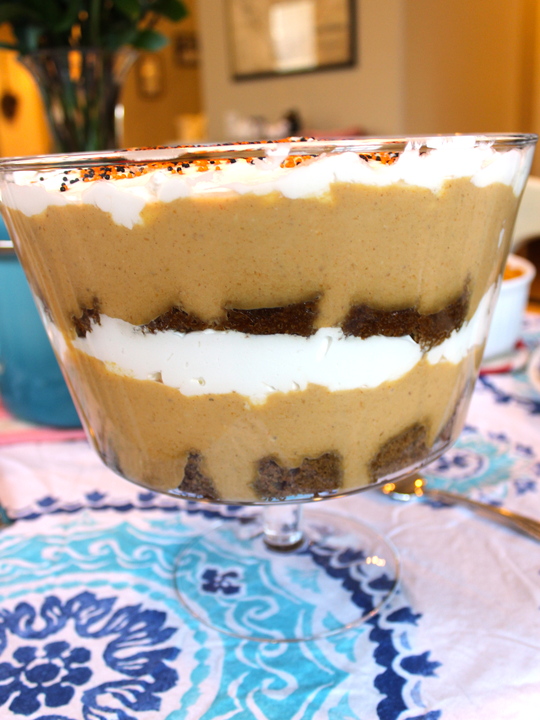 Pumpkin-gingerbread trifle (Adapted from Gourmet and the New York Times, serves 12+)
Gingerbread
2 cups all-purpose flour
1 teaspoon baking soda
2 teaspoons ground ginger
1/2 teaspoon cinnamon
1/2 teaspoon salt
1 stick (1/2 cup) unsalted butter, at room temperature
1 cup packed dark brown sugar
1 large egg
1/2 cup mild molasses (not robust or blackstrap)
3/4 cup well-shaken buttermilk (not powdered)
1/2 cup hot water
Preheat oven to 350°F. Butter a 13- by 9-inch baking pan, then line it with foil, leaving about an inch overhang at both ends. Butter the foil.
Whisk the flour, baking soda, spices and salt together in a medium bowl.
Beat the butter and brown sugar together in a large bowl, using an electric mixer (or the paddle attachment of a stand mixer), until the mixture is pale and fluffy (about 3 to 5 minutes). Add the egg and beat until combined, then add the molasses and buttermilk and mix well.
Add the flour mixture at once and mix on low speed until the batter is smooth, then add the hot water and beat for one more minute. Don't freak out if the batter looks curdled.
Pour the batter into the pan and spread it out evenly. Bake the cake for 35-40 minutes, or until the center bounces back when poked lightly with your finger. Let the cake cool in the pan (you can cover it with plastic wrap and let it sit at room temperature overnight, if you want), then use the foil to lift the gingerbread out of the pan and onto a cutting board. Cut the cake into 1-inch cubes with a bread knife.
Pumpkin pudding
5 cups half-and-half, whole milk, or a combination of heavy cream and milk
1 1/3 cups sugar
1/2 teaspoon salt
6 1/2 tablespoons cornstarch
2 (15-ounce) cans pure pumpkin
1 1/2 teaspoons pumpkin pie spice
1 teaspoon real vanilla extract
2 tablespoons brown sugar
Pour 4 cups of half-and-half, milk or whatever you're using into a large or medium saucepot. Add the sugar and salt, and put the pot on medium or medium-low heat. Stir and cook until the mixture begins to steam.
Meanwhile, whisk or stir the cornstarch and remaining 1 cup milk/whatever together in a bowl until there are no lumps. Add that to the hot milk mixture and continue cooking on medium or medium-low heat, stirring occasionally, until the mixture starts to boil (this will take about 5 minutes, unless the heat isn't turned up quite high enough).
After the mixture has boiled for at least a few seconds, reduce the heat to the lowest setting and continue stirring until the pudding gets very thick. Stir in the pumpkin, pumpkin pie spice, vanilla extract and brown sugar.
Pour the pudding into a bowl and cover with plastic wrap, pushing it down directly on to the top of the pudding to prevent a skin from forming. Refrigerate at least until cold, or overnight. (If it looks lumpy when you take it out of the fridge, you can whisk it)
Whipped cream
1 1/2 cups chilled heavy cream
3 tablespoons powdered sugar
1 teaspoon vanilla extract
Beat the cream, sugar and vanilla together until the mixture holds soft peaks.
To assemble the trifle:
Tightly pack half of the gingerbread into the bottom of a 2-quart trifle dish or large punch bowl. Spoon about half of the pumpkin pudding over the gingerbread, then cover that in half of the whipped cream (you may have to use the back of a spoon to spread it out).
Arrange the rest of the gingerbread (reserving 1-2 pieces for topping, if desired), the rest of the pudding and the rest of the whipped cream (in that order) in the bowl. Decorate with sprinkles or crumbled gingerbread, if you'd like, then cover and refrigerate the trifle for two hours before serving. If you're going to refrigerate the whole thing overnight, wait until just before serving to add the top layer of whipped cream and sprinkles/topping.