Breakfast may be the most important meal of the day, but I have never been very good at eating it. Besides the fact that I am rarely hungry in the morning, I also disliked nearly every breakfast food you can imagine when I was growing up.
I was a pleasure to deal with, I'm sure. But for whatever reason — whether I actively disliked oatmeal or we all just assumed I wouldn't like it because of my hatred of all other kinds of cereal — I don't remember really giving oatmeal a chance until I was 22 or so.
At that point, I was living on my own and trying a diet that was designed to clear up my skin. The diet made me miserable and did not have any noticable impact on my skin, but it wasn't a total loss — because it did make me realize I really like oatmeal.
Yes, plain oatmeal can be a little boring, but one of the great things about it is that it can serve as a base for all sorts of fun flavors. Because, really, who needs those gross pre-packaged flavored quick oats when you can make your own creamy porridge that tastes just like banana bread, complete with a hint of cinnamon and some crunchy pecans?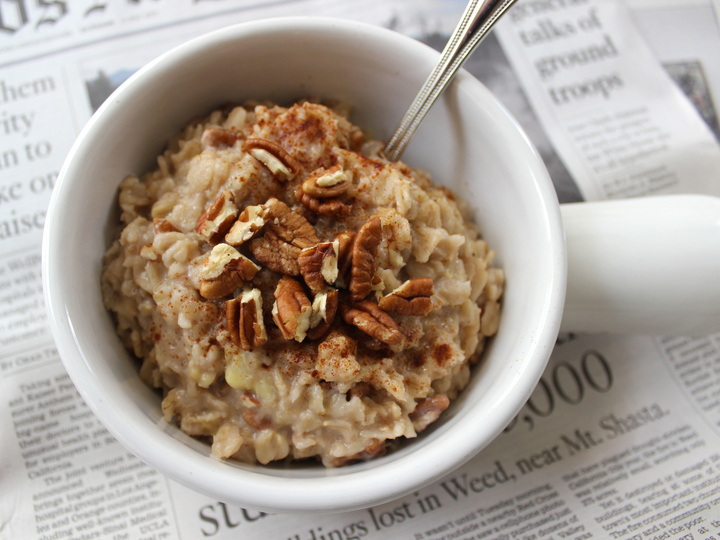 It turns out that breakfast isn't so terrible after all.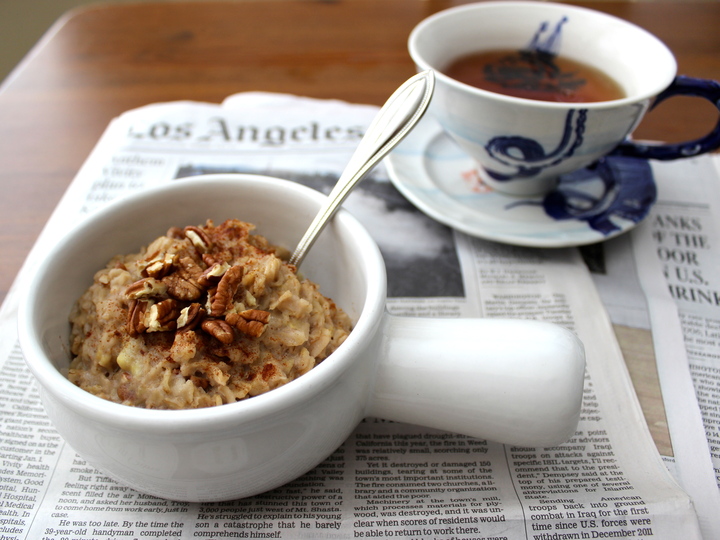 Banana bread oatmeal (Makes one generous serving)
1/2 cup coconut milk, almond milk or other milk of your choice (I usually avoid cow's milk for this because it seems like it boils over easily, but you can totally use it)
1/2 cup water
1/2 cup old-fashioned rolled oats (not quick oats! See note below for steel-cut)
1 medium ripe (or overripe) banana
dash of ground cinnamon
handful of pecan or walnut pieces
brown sugar or maple syrup (optional)
Combine the coconut milk and water in a small pot and bring it to a boil over high heat. While you're waiting, measure the oats and mash up the banana with a fork. When the liquid boils, add the oats, mashed up banana and cinnamon and stir to combine.
Turn the heat down to low and cook, stirring occasionally, until the oats are cooked to the consistency you like (usually about 15 minutes for mine, but it depends on what kind you use). A minute or two before the oatmeal is ready, stir in the nuts.
Stir in a little brown sugar, if using, and serve warm.
Note: You can make this with steel-cut oats, if you prefer, you'll just have to increase the amount of water and coconut milk you use, and it will take a little longer to cook. Check the package for proportions, but for one serving you'll probably need 1/4 cup oats, 1/2 cup water and 1/2 cup coconut milk. Add the same amount of banana and other ingredients as you'd do for rolled oats.