It has been far, far too long since I posted a cake recipe, y'all. But today I'm going to remedy that with a doozy — an easy three-layer banana-coconut cake with simple, perfect chocolate frosting, toasted coconut and chocolate ganache. A-maze-balls. And tomorrow? Chocolate mint brownies for St. Patrick's Day. Party!
You'll need a lot of smashy bananas, of course. You know the ones: brown, mushy and about 5 seconds away from being tossed in the trashcan. I used a few bags of frozen smashy bananas, along with a fresh(ish) banana or two.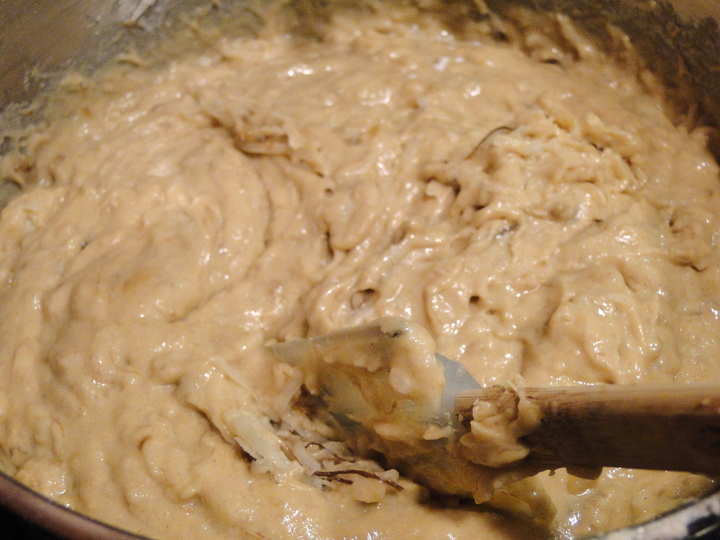 You don't have to put coconut in the cake batter if you're not as crazy for coconut as I am, but it really is delicious.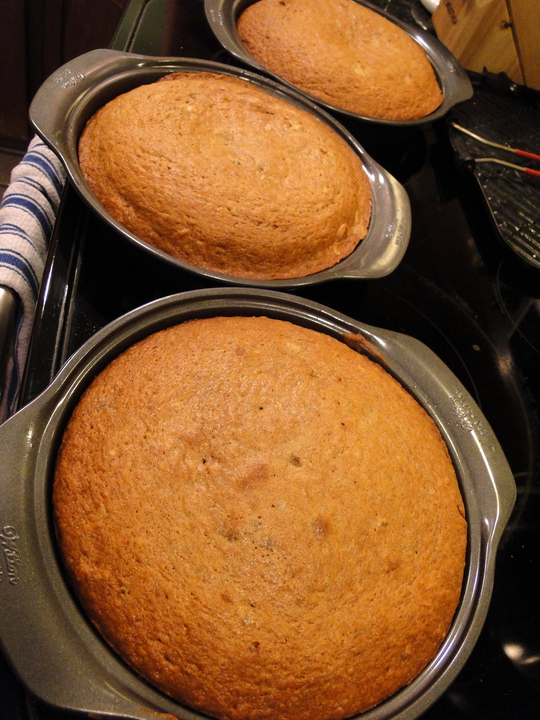 I went a little overboard with the cake batter, so I ended up with ginormous layers. I put a smaller recipe below so you won't have that problem. But the good news about large layers is that I didn't feel bad at all about slicing off the rounded top parts (and then tasting the scraps).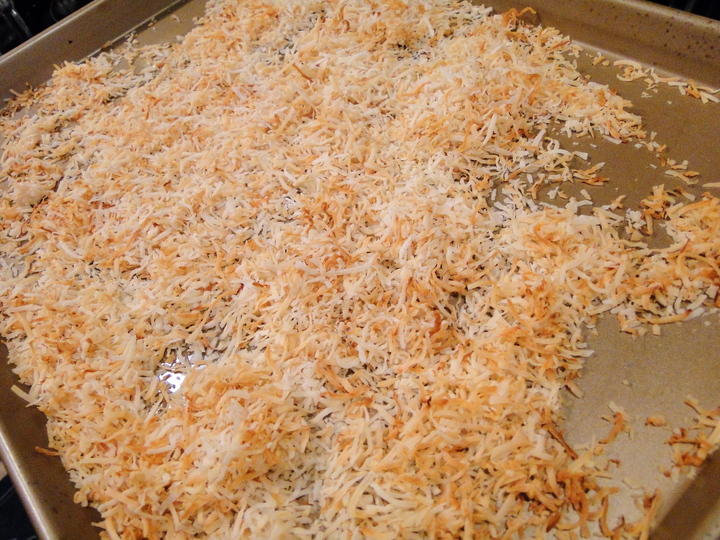 Even if you don't put coconut in the cake, you should totally put it on the cake — it's an easy way to make it looks really pretty and impressive.
Unlike vanilla frosting, chocolate frosting can be kind of annoying to make, since it involves melting chocolate. This frosting does, of course, involve melting chocolate, but the rest of the process takes about 30 seconds. You just have to throw the ingredients into a food processor and push a button.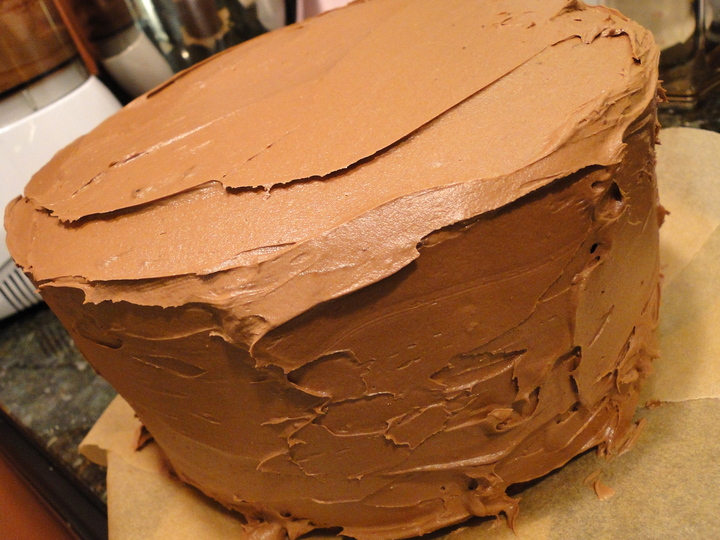 I should tell you: I got the idea for this cake from A Spicy Perspective via Pinterest — the cake is beautiful and the recipe looks great. But I ended using recipes from Smitten Kitchen instead, just because I was making the cake for a party and I know Deb's recipes are always fantastic.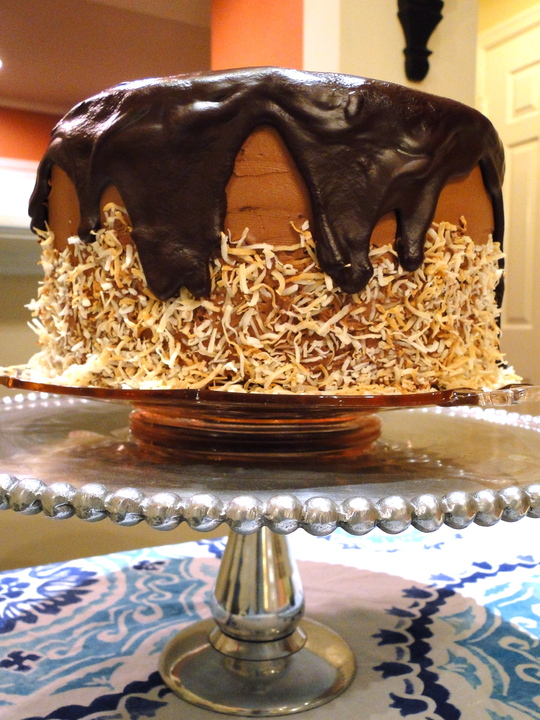 Slathering chocolate ganache over the top of a cake is always a good idea, even if it's not as smooth and shiny as you'd like. And, in case you're wondering, this went over really well — at the party, and at the Pentagon. If you're a fan of chocolate and bananas, you absolutely must try it.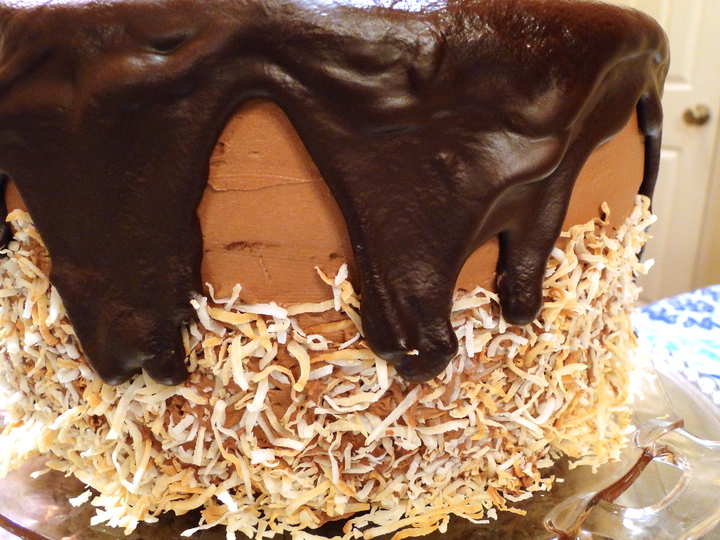 Banana coconut cake with chocolate frosting (Idea from A Spicy Perspective, recipe adapted from Smitten Kitchen, makes one three-layer 9-inch round cake)
Cake*
3 1/2 cups cake flour
2 teaspoons baking powder
1 1/2 teaspoons baking soda
3/4 teaspoon salt
1 teaspoon cinnamon
1 cup (2 sticks) unsalted butter, at room temperature
1 cup sugar
1 cup packed brown sugar
4 large eggs
2 cups mashed very ripe bananas (5 to 6 large)
6 tablespoons sour cream or plain yogurt
2 teaspoons (10 ml) vanilla extract
1 cup sweetened coconut, plus 2 cups toasted** sweetened or unsweetened flake coconut for assembly
Preheat oven to 350F. Line the bottoms of three 9-inch round cake pans with parchment paper, then spray with nonstick spray and dust with flour.
Whisk the cake flour, baking powder, baking soda, salt and cinnamon together in a medium or large bowl.
In a large bowl, use an electric mixer (or the bowl of a stand mixer, using the paddle attachment) to beat the butter and sugars together until well blended. Add the eggs one at a time, beating after each addition. Add the bananas and beat to combine, then add the sour cream and vanilla and beat well.
Add half of the dry ingredients and beat on low until just combined, then add the other half and beat until barely combined. Add 1 cup of the sweetened coconut and stir to combine. Try not to overmix.
Divide the batter evenly among the three pans, then bake for 25-35 minutes, or until the middle of the cake bounces back when you poke it lightly with your finger and/or a toothpick inserted into the center of the layers comes out clean.
Cool the layers in the pan for about 15 minutes, then flip onto a cooling rack to cool further. Once layers are cooled (or at least pretty close), wrap them well in plastic wrap and place in the freezer for at least an hour to make for easier assembly.
*If you prefer extra-large cake layers, use the three-layer version of the recipe here and add 1 1/2 cups of sweetened flake coconut to the batter.
**To toast coconut, spread it evenly on a rimmed baking sheet. Bake in a 325F oven 10-15 minutes, until golden brown (but check it often/watch it closely — you don't want it to burn)
Easy and delicious chocolate frosting (Makes a lot — like 7 1/2 cups)
8 ounces unsweetened chocolate
6 3/4 cups powdered/confectioners sugar
4 1/2 sticks unsalted butter, at room temperature
9 tablespoons half-and-half or whole milk
1 1/2 tablespoons pure vanilla extract
Chop the chocolate into pieces and melt in a double boiler or heat-proof bowl set over a pot of simmering water, stirring occasionally. Once the chocolate is melted, set it aside to cool a bit.
Once the chocolate is about room temperature, pour it into a food processor with the rest of the frosting ingredients. Process until smooth.
Chocolate ganache
8 ounces semi-sweet or bittersweet chocolate (chips are fine)
1/2 cup heavy cream
Chop the chocolate up into pieces, if you're not using chips. Heat the chocolate and heavy cream in a double boiler or a heat-proof bowl over a pot of simmering water, stirring occasionally, until melted and smooth. Allow to cool for a few minutes, but use while still warm.
To assemble the cake, take the cake layers out of the freezer and unwrap. Place one layer flat side up on a plate. Smooth a thick layer of frosting on top, then top with the next layer of cake, flat side up. Smooth a thick layer of frosting on top and top with the third layer of cake, flat side down.
Frost the sides and top of the cake with a thin layer of frosting, then refrigerate the cake for about 30 minutes. Take the cake out and cover with another layer of frosting, then press toasted coconut onto the sides of the cake, going at least halfway up the sides of the cake. Refrigerate the cake again for about 30 minutes, if you have time.
Carefully pour chocolate ganache on the top of the cake, spreading it to the edges with a frosting spatula or back of a spoon to let it drip down the sides. Refrigerate to set if not serving immediately.