We have a lot of bourbon in our house. It's in our bar, in our pantry, on display and even in a painting on our wall. Apparently that's normal for someone from Kentucky whose family runs a distillery… but it still seems a bit strange to me.
I try to embrace it, though. I've made bourbon sweet potatoes, bourbon-glazed chicken, bourbon balls, bourbon-peach cobbler, sweet tea mint julep sorbet and chocolate bourbon soufflé cupcakes. And I'm always on the lookout for new ways to incorporate the never-ending flow of bourbon into food and baked goods. So when I saw this post about bourbon shortbread on Esquire's food blog, I filed it away in my brain.
Then, a good friend of ours deployed to Afghanistan. And he asked me to send him some cookies. Since this friend is a man — and he drank more than a few mint juleps at our wedding — I figured he would appreciate a cookie with bourbon in it.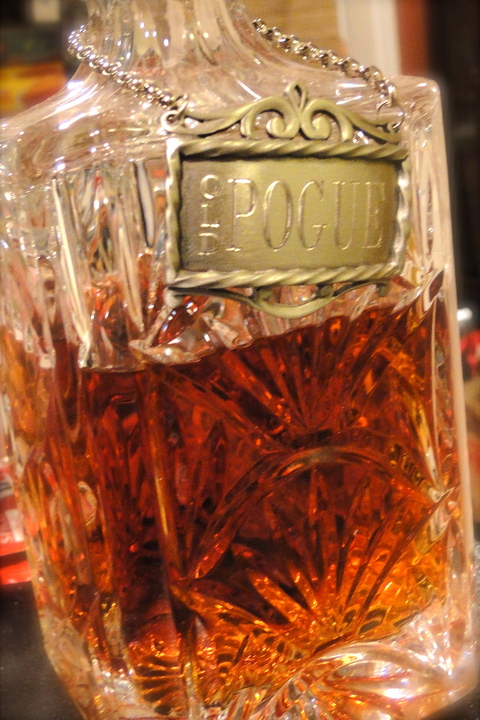 One note on the bourbon: As I mentioned, Toby's family has a (legit) bourbon company in Kentucky, called Old Pogue. The short version of the story is that the family established a distillery near Maysville, Ky., in 1876, but it basically closed because of Prohibition and had not been used for years. Then, 15 years or so ago, Toby's grandfather, great uncle and uncle started making bourbon again, using one of the original recipes.
Now, you obviously don't have to cut the dough into Christmas shapes. But the dough does hold shapes beautifully, so the cookies will look lovely whether you go for circles, hearts, stars or goats.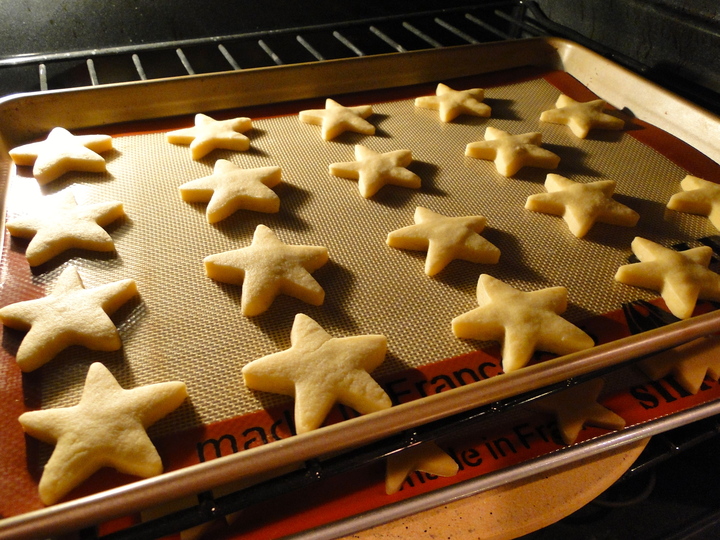 The bourbon flavor isn't very pronounced, so you shouldn't worry if you're not a huge drinker. You also can use any kind of bourbon you'd like. But I would recommend something that you would actually drink, because you don't want to add the flavor of something cheap and gross to your cookies, right?
And really, they are delicious and ready to go after baking. But since I was sending them to Afghanistan for Christmas, I wanted them to look extra pretty… so I added a bourbon glaze and sprinkles. You can easily keep your glaze bourbon-free, though.
I also threw in some ninjabread men, for good measure.
These should keep for a few weeks in an air-tight container, though I haven't heard from Dan yet, so no word on if they still taste OK after a round-the-world plane ride. We ate the leftovers within 12 hours, of course.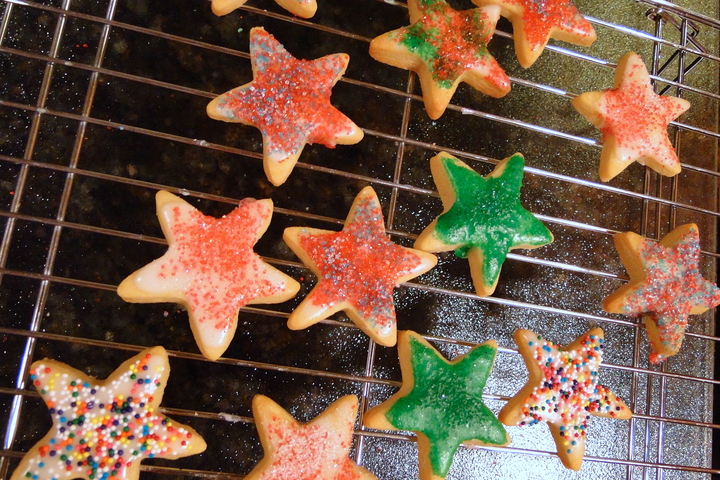 Bourbon brown sugar shortbread (Adapted from Maker's Mark via Esquire, makes 6-7 dozen small cookies)
3 1/2 cups all-purpose flour
1/4 teaspoon kosher salt
3 sticks (1 1/2 cups) unsalted butter, at room temperature
1/2 cup brown sugar
1/2 cup confectioners (powdered) sugar
1 vanilla bean (optional)
1 tablespoon pure vanilla extract
2 1/2 tablespoons bourbon (Maker's Mark or Old Pogue preferred!)
Sift the flour and salt together into a medium bowl and set aside. Cut the butter into pieces and place with sugars into a stand mixer fitted with the paddle attachment (or a large bowl with a handheld electric mixer).
Beat/cream the butter and sugars together until mixture is fluffy.
Using a sharp knife, split the vanilla bean in half lengthwise and scrape the insides (you can use the tip of the knife for this) into the bowl with the butter mixture. Add the vanilla extract and bourbon, then beat on medium speed until well combined.
Gradually add the flour/salt mixture to the butter and mix until everything is combined (you can add it in a few additions, or slowly add it while the mixer is on low speed – just don't add it fast while the mixer is going if you don't want flour all over the place).
Once the dough comes together into a ball (it should come off the sides of the bowl easily), take about half of it and shape it into a ball. Flatten the ball slightly and wrap it in plastic. Do the same with the other half, then refrigerate both rounds for about two hours (or overnight).
Preheat the oven to 350F. Take the dough out of the fridge and, on a lightly floured surface, roll the dough out to about 1/2 inch thickness and cut using cookie cutters, the mouth of a glass or a knife.
Place cookies on an ungreased cookie sheet (or one lined with parchment paper or a silicone baking mat), about 3/4 inch apart. Bake until the edges start to brown, about 10 minutes (longer if the cookies are larger).
Allow to cool for 3-5 minutes on the baking sheet, then transfer to a wire rack to cool completely.
Bourbon glaze (optional)
2 cups confectioners (powdered) sugar
2 teaspoons bourbon
Milk
Sprinkles
Stir 2 teaspoons bourbon and 1 teaspoon milk into powdered sugar. Continue adding small amounts of milk as needed until glaze is a spreadable consistency.
Spoon or spread the glaze on to cooled cookies, then decorate with sprinkles. Allow glaze to dry before serving.